The reasons to buy an indoor water rowing machine for your home are endless. They are calming, stylish, effective, and so much more. A water rowing machine is simply a fantastic addition to any household. So, which one is the best to buy?
In this article, we will be reviewing our favourite water rowing machines at different price points. Then, we'll dive into an extensive buying guide so that you'll know what to look for when buying the best water rowing machine for you.
What is a water rowing machine?
A water rowing machine is an indoor rower that uses the movement of water in a tank as the main source of resistance. An indoor water rowing machine is commonly made of handcrafted wood, built with a water tank and pulling mechanism. They are often called water rowers, not to be confused with WaterRower, the well known brand of water rowing machines, reputed for its aesthetic and quality.
In this review, we discuss;
Why buy an indoor water rower?
Realistic stroke feel
Indoor water rowers are the most realistic in replicating the feel of rowing in a body of water. You paddle the water in the tank each time you pull on the handles, and the feeling never gets old.
Aesthetic
Water rowers look very stylish thanks to their wooden designs. They are often handcrafted and designed to suit any home for many years to come. Unlike workout machines made from metal, wooden workout machines are timeless.
They are (relatively) quiet
A water rowing machine creates some noise due to the water moving around inside the water tank. The noise of water is highly regarded as relaxing, so although you can hear it, rowers often enjoy the sound effects.
If you want to know more, we've put together a post comparing water vs magnetic vs air rowers.
Top 7 Water Rowing Machines
We have scanned the market for the water rowers with the best quality, features, and performance for our top seven water rowing machines. The prices of these products range from approximately £550 to £1,300 ($750 to £1800).
The VR1 by Pure Design is a chic and minimal water rowing machine that will allow you to maximize the benefits of your home workout in style. It makes a practical addition to your home as it can easily be stored away vertically when not in use. Between the footrests is a monitor display to clearly show your metrics, including meters per second, distance, strokes, and calories burnt.
Resistance: 9 levels
Rail length: 210cm
Max weight capacity: 120kg
Product weight: 40kg
Vertical storage: Yes
Transport wheels: Yes
Price: £
Retailer: John Lewis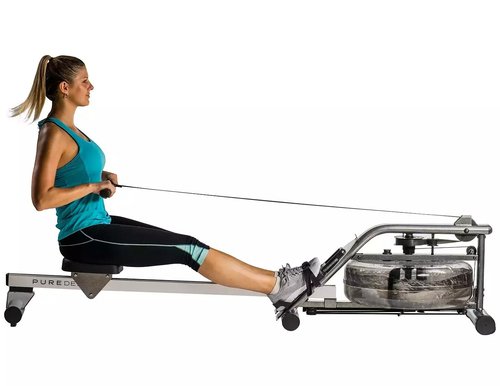 ---
The Circuit Fitness 167 Hydro Rower has all of the features that have earned it stellar reviews and happy rowers. It is easy to assemble and comes with a foldable LCD display that tracks time, stroke count, distance, strokes per minute, calories burnt, and heart rate. Many like to use their Circuit Fitness Water Rower in the living room while watching TV, made comfortable thanks to the moldable seat and large slip-resistance pedals.
Resistance: Customisable
Rail length: 198cm
Max weight capacity: 136kg
Product weight: 47.6kg
Vertical storage: Yes
Transport wheels: Yes
Price: £
Retailer: Amazon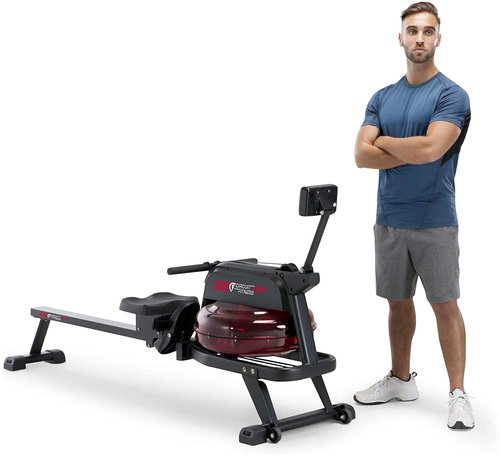 ---
The Xterra Water Resistance Rower is a fantastic rowing machine that provides high-class performance. It is equipped with an adjustable LCD console covering all of the basic rowing metrics such as strokes per minute and calories burnt. Notably, the console offers several different computer modes to motivate you through challenges such as Race Against the Computer and other various countdowns. This impressive water rower is built with a dual aluminium rail system, an industrial-strength handle strap, and a durable Xterra multi-bladed impeller.
Resistance: 6 levels
Rail length: 205cm
Max weight capacity: 136kg
Product weight: 37.5kg
Vertical storage: Yes
Transport wheels: Yes
Price: ££
Retailer: Fitness Superstore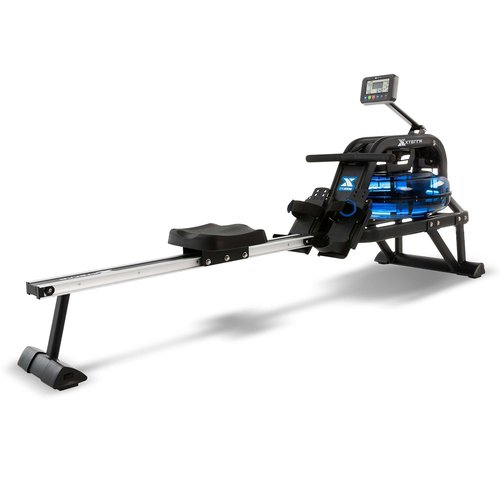 ---
This exquisitely crafted wooden rowing machine is perfect for those who prefer classy, timeless pieces in their households. TOPIUM offers three different wood colours, all made from durable ash and walnut woods. The water tank is constructed with aviation materials, making it highly resistant to wear and tear. The LCD display shows time, strokes per minute, distance, calories, and three different workout modes to motivate you as you row.
Resistance: Customisable
Rail length: 210cm
Max weight capacity: 180kg
Product weight: 40kg
Vertical storage: Yes
Transport wheels: Yes
Price: ££
Retailer: Amazon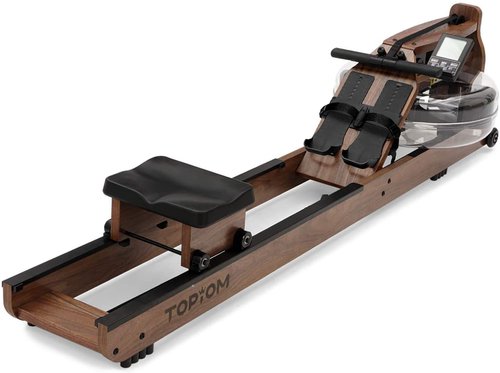 ---
WaterRower machines are a classic in the rowing field, most lauded for their quality, performance, and realistic feel. They are trusted by many institutions, and big names such as Steven Spielberg, Anna Friel, and Princess Anne. The A1 Studio Rowing Machine is an entry-level handcrafted WaterRower in solid ash. It is designed with an aluminium mono-rail and an A1 monitor. This monitor is a simpler version of the WaterRower's S4 monitor and displays intensity, speed, calories burnt, stroke rate, and more. Its resistance is self-regulating, meaning that the harder you pull, the more resistance is created.
Resistance: Self-regulating
Rail length: 212cm
Max weight capacity: 150kg
Product weight: 35kg
Vertical storage: Yes
Transport wheels: Yes
Price: £££
Retailer: John Lewis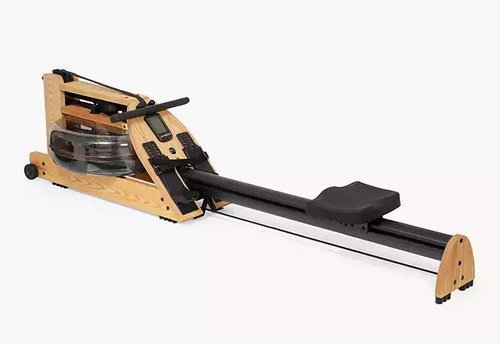 ---
The WaterRower Natural Rowing Machine is a tough rower to beat with its lovely minimalistic design and excellent craftsmanship. Its ash and stained honey oak make it a fashionable piece for any household setting while also equipped with a strong dual seat rail. A step up from the A1, the S4 performance monitor takes your workout session to the next level, bridging the gap between classy and advanced. The S4 monitor is compatible with the We-Row app for an immersive digital experience to store training data, connect to other rowers, and track your rowing progress.
Resistance: Self-regulating
Rail length: 209cm
Max weight capacity: 200kg
Product weight: 33kg
Vertical storage: Yes
Transport wheels: Yes
Price: ££££
Retailer: John Lewis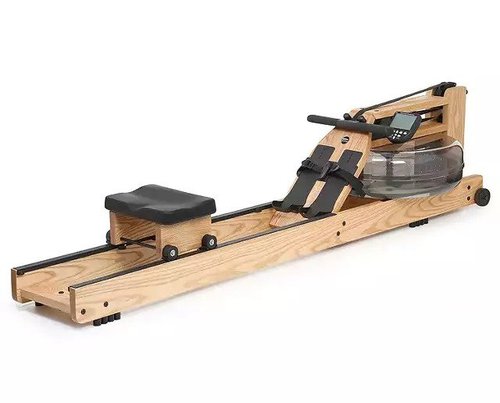 ---
The WaterRower Performance Ergometer Rowing Machine ditches the S4 monitor. Instead, it opts for an integrated tablet/phone holder so that your own device can act as the driving force in your workout. Utilizing SmartRow technology that connects to your device, you can track numerous performance metrics such as absolute force, stroke length, average speed, and more. This technology also offers a wide range of workouts and the ability to virtually race against other rowers. The rower is constructed with Appalachian white oak, giving it a beautiful and robust finish.
Resistance: Self-regulating
Rail length: 209cm
Max weight capacity: 315kg
Product weight: 31.5kg
Vertical storage: No
Transport wheels: No
Price: ££££
Retailer: John Lewis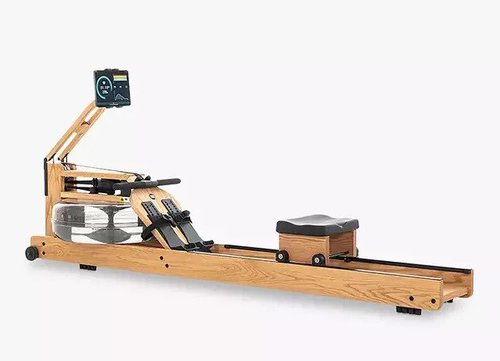 Keep updated with regular content...
We'll only get in touch when we've got something exciting to share, like exclusive discounts and competitions!
Buying Guide
Below, we will cover everything you should know and consider when shopping for an indoor rowing machine.
Quality and performance
Firstly, you'll need to think about how well the water rower performs as a workout tool. If it isn't durable or long-lasting, then it probably isn't a suitable choice to maximize your fitness capacity. Water rowing machines are typically considered higher quality and more durable than their magnetic counterparts, although this will be reflected in the price.
To tell if a certain indoor rowing machine is of good quality, you can reference the brand as well as the price. If it comes from a reputable brand and is more expensive, you will likely get years upon years of consistent rowing. Additionally, if that brand has many good reviews online, that's also an indicator of durability.
Design
Often, people want their indoor rowing machines to complement their home décor and contribute to their style, much like household furniture. There are rowing machines made out of various materials such as plastic, aluminium, and wood. The best design is the one that suits your taste and rowing lifestyle.
Plastic rowing machines are cheaper and more affordable, although they are subject to easy wear and tear. Aluminium rowing machines add a modern edge to any household but may go out of style after a few years. Wooden rowers are the classiest, sitting seamlessly next to an armoire or bookcase.
Technology
On a water rowing machine, the technology is generally quite minimal, with more focus placed on the rowing itself and hearing the water move in the tank. The metric tracking is also less precise compared to magnetic and air rowers, so you may want to consider that before pursuing a water rower.
Space
A rowing machine takes up a large portion of floor space when laid out flat. However, there are many convenient options for indoor rower models to be stored upright and wheeled out of sight. The majority of water rowers are designed to stand upright, even with water still in the tank! They can be tucked away into closets, at the end of the corridor, or even showcased against the living room wall.
Budget
Your budget will impact what kind of water rowing machine you will get and for what quality. Water rowing machines are usually more expensive than magnetic and air rowing machines for their signature wooden design and professional craftsmanship.
Between £500 and £650 ($700 - $900), you can find a sturdy water rower on sale with the basic digital metrics and rowing functions. The build should support a few years of consistent rowing.
Between £650 to £900 ($900 - $1250), you can get a better quality water rowing machine that will probably last longer and sport a sleeker design. The digital display should be more advanced, and the feel of the rower more natural.
From £900 and up ($1250+), you can get a very high quality water rowing machine that can also provide you with an immersive digital rowing experience. These are usually handcrafted and built to last for decades.
FAQs
Are water rowing machines any good?
Not only are water rowing machines good, but they are excellent at providing a realistic rowing experience from the comfort of your home. They are often handcrafted to perfection and constructed from various woods to give them a rustic, durable feel.
What is the best water rowing machine?
We recommend the WaterRower Natural Rowing Machine with an S4 Performance Monitor, which provides superior quality and feedback compared to some cheaper rowers. It can be stored away upright and also comes with a stunning wood finish to make it one of the most beautiful workout machines on the market.
Can you lose weight with a water rower?
You can certainly lose weight with a water rower by rowing about three times a week and maintaining a healthy diet. Rowing is an excellent form of exercise that combines strength, cardio and aerobics to cultivate the ultimate fitness experience.
Conclusion
The key considerations you should keep in mind when looking to buy a water rowing machine are quality, design, technological features, space, and budget. We've reviewed many sellers, selecting the best ones based on reviews, reputation, and quality of the product.
If you're looking for a lower-tier water rower, then the Circuit Fitness 167 Hydro Rower is probably the best choice. At the other end of the spectrum, if you want a fancier rower that's more technologically advanced, then you should go for the device-oriented WaterRower Performance Ergometer Rowing Machine.
If you want to explore the other types of rowing machine, we've written an ultimate guide to buying a rowing machine to help you work out which one to buy.
For the rest of your man cave needs and desires, why not explore our site or head over to the Rowing Machines section to see more posts and recommended products!
Affiliate disclaimer: on some or all of the products above, we receive a small commission if you make a purchase via our site. This does not impact the price you pay, but it allows us to keep helping people by writing these reviews, so thank you!