Looking to buy a rowing machine? Well, you've come to the right place. Indoor home rowers are great to help you get in shape and stay fit without the hustle and bustle of a trip to the gym.
However, despite the ease of owning a rowing machine, it can be overwhelming to actually decide on which kind is right for you. There are water, air, and magnetic rowing machines. On top of this, machines differ in terms of brand, retailer, price point, and features.
We have researched many products and brought you our top selections. In this ultimate guide, we will review the best home rowing machines and explain the key things you should know in order to help you find the perfect one.
What should I look for when buying a rowing machine?
When buying an indoor rower, the most important factors to consider are quality, performance, size and price. A rowing machine is an investment, so it is essential to know what to look for before deciding. There are three main types of indoor rowers, based on how they generate resistance: water, air and magnetic.
In this review, we discuss;
Why buy a rowing machine?
Let's discuss the several benefits of buying a home rowing machine.
Low impact and full-body
Aching joints and tight backs are tell-tale signs of challenging exercise, such as running, lifting, and interval training. Muscle grows and adapts faster than joints do, and in high-impact activities such as these, it often leads to discomfort and injury.
Rowing, on the other hand, is low-impact and full-body. Your joints will have a chance to catch up to your training, and it will lower your chances of sitting on the sidelines due to injury or pain..
Burn calories and shed weight
Indoor rowing is, first and foremost, an excellent form of exercise. As you row, you use up energy and burn calories. And, compared to other aerobic sports, rowing can be performed for more extended periods of time and burn a higher number of calories overall. With a proper diet, this leads to weight loss, toning, and an overall improvement in health.
Easy to store away at home
Ever not have enough space? It can be tough to keep the house neat and tidy when there are only so many things that can be stored away and out of sight. Luckily enough, most manufacturers design rowing machines to be foldable or stood upright, making them convenient to store or put to the side. Thanks to their slim shape, rowers can be stored in closets, behind couches, and even under the TV stand.
If you want to know more about the benefits of rowing, check out our post on the subject.
Which type of indoor rower should you get?
Before diving into the best rowing products, we'll explain the different types of rowing machines. And here's a summary if you're short for time:
Water Rowing Machine
The water rowing machine can be best described as a classic. It creates rowing resistance with the help of paddles moving through water in a tank. The advantages of a water rowing machine are the sound of the water as you row, the realistic feel, and the minimalistic design. Water rowers are often more expensive and suitable for those who enjoy rowing in natural water.
Magnetic Rowing Machine
The magnetic rowing machine is the modern version of the rower, which utilises magnets instead of water to create resistance. A magnetic rowing machine is silent, compact, and low-maintenance. Although it lacks the realistic feeling of rowing on water, it does make up for it with lower prices and precise tracking.
Air Rowing Machine
You'll see an air rowing machine at virtually every gym you step into. It is powerful, big and durable, and can take a lot of wear and tear, which is perfect for those who row a lot. Air rowers provide a good middle ground between water and magnetic rowers as they offer a fairly realistic rowing experience.
If you want to know more, read our in depth comparison of water vs magnetic vs air rowing machines.
Top 7 Rowing Machines
We have gathered our top picks from each of the three main types of rowing machines. If you know you want a specific type of rowing machine then you might want to read one of our blogs below:
Now, let's get into our top 7.
Best affordable water rower
Our top affordable water rowing machine goes to the Pure Design VR1 Rowing Machine. It earns its name with its simple, minimalist design and fantastic features. A battery-powered LCD display rests between the footholds, which comes with adjustable straps for a safe row. The machine can be stored upright, while hidden wheels allow you to easily transport the machine from one place to another, allowing you to store away the rower on your own. The handles are fitted with comfortable grips so that your hands take it easy. And, our selected retailer, John Lewis, provides a two-year guarantee. John Lewis is known for their water rowing machines, and the VR1 is explicitly designed to simulate the experience of rowing in a body of water.
Resistance: Water, 9 levels
Rail length: 210cm
Max weight capacity: 120kg
Product weight: 40kg
Storage: Stands upright
Requires power connection: No
Price: ££
Retailer: John Lewis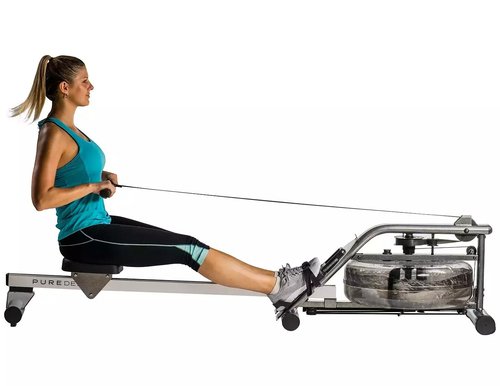 ---
Best high spec water rower
Also from John Lewis, the WaterRower A1 Studio Rowing Machine is our chosen high spec water rowing machine. What stands out at first glance is the rower's beautiful solid ash wooden craftsmanship, which contrasts perfectly with the aluminium mono-rail. The LCD screen is ideal for those who like to begin their rowing sessions quickly, with all their data clearly displayed. This water rower can also be stored upright with transport wheels for easy transport. This is the stripped-down version of fancier water rowers, providing a more organic rowing experience without sacrificing performance or design. So, if you're a person with a more straightforward, classy taste, then this rower is for you.
Resistance: Water, customisable resistance levels
Rail length: 212cm
Max weight capacity: 150kg
Product weight: 35kg
Storage: Stands upright
Requires power connection: No
Price: ££££
Retailer: John Lewis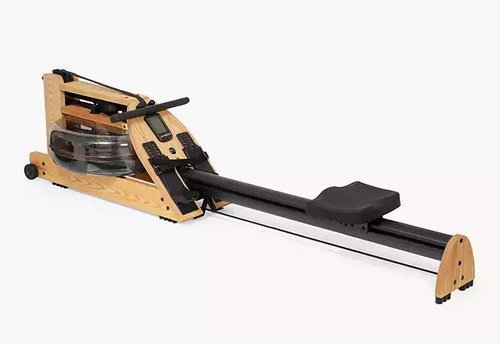 ---
Best affordable magnetic rower
The JLL R200 Home Rowing Machine is our top pick in the affordable magnetic category. It is constructed from alloy steel and boasts a compact design. The LCD monitor offers a clear display of your progress, including distance, calories, time, and more. With the turn of a dial, you can control the magnet in the machine to create ten different resistance levels. The folding mechanism allows the machine to be folded upright. It also comes with a smooth sliding mechanism consisting of wheels fitted under the seat to promote seamless movement. Additionally, the handles and foot plates are made to ensure that your workout is both comfortable and slip-free.
Resistance: Magnetic, 10 resistance levels
Rail length: 180cm
Max weight capacity: 100kg
Product weight: 26.2kg
Storage: Folding
Requires power connection: No
Price: £
Retailer: Amazon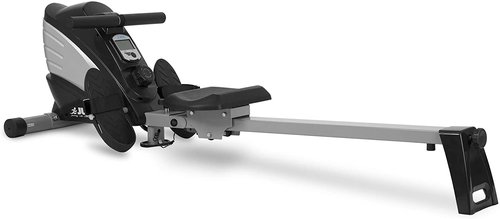 ---
Best high spec magnetic rower
For a high-end magnetic rower, the ProForm 750R Rowing Machine is our top pick. It sports an updated design and red accents. Different from other magnetic rowing machines, the steel seat rail is oversized to increase stroke stability. The pivoting pedals are also oversized for increased comfort. Most notably, the rower comes with a 5" high contrast multi-colour display and a tablet holder. You can customise your rowing experience by taking online classes or watching videos. On top of this, the 750R comes with instant access to 20 different workouts and a 1-year iFit subscription, which creates a personalised daily programme.
Resistance: Magnetic, 24 resistance levels
Rail length: 218cm
Max weight capacity: 130kg
Product weight: 46kg
Storage: Folding
Requires power connection: Yes
Price: £££
Retailer: John Lewis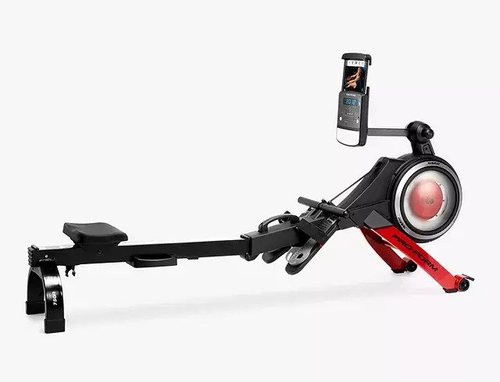 ---
Best affordable air rower
The V-fit Tornado Air Rower is an affordable air rower with several advantageous capabilities. It comes with a very clear, three-screen monitor to read your metrics. This way, you can see the numbers at a glance and immediately locate the screen you would like to look at. The material is alloy steel and aluminium, with a sculpted seat and ergonomically shaped row handle. The oversized foot plates are made comfier with deep heel cups and thick velcro straps. And, the entire machine can be folded to make for an extremely compact storage item.
Resistance: Air, 6 functions
Rail length: 212cm
Max weight capacity: 115kg
Product weight: 19.5kg
Storage: Folding
Requires power connection: No
Price: ££
Retailer: Amazon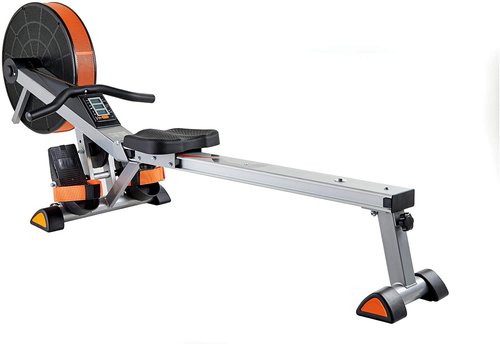 ---
Best high spec air rower
For our high spec air rowing machine of choice, we went with a high-quality commercial rowing machine called the JTX Ignite Air. Its design is modern and chic, with JTX Fitness written in a stylish print on the side. The damper settings range from one to nine, varying your row and customising the difficulty. The computer console tracks speed, distance, time, revolutions, and more. It also comes with eight different workout modes to spice up your training and advance your workout. For storage, the Ignite Air differs from the rest as it separates into two pieces. This can give you more flexibility, especially if you want to store the two pieces in separate areas.
Resistance: Air, 9 resistance levels
Rail length: 137cm
Max weight capacity: 150kg
Product weight: 46kg
Storage: Separates into two pieces
Requires power connection: No
Price: £££
Retailer: JTX Fitness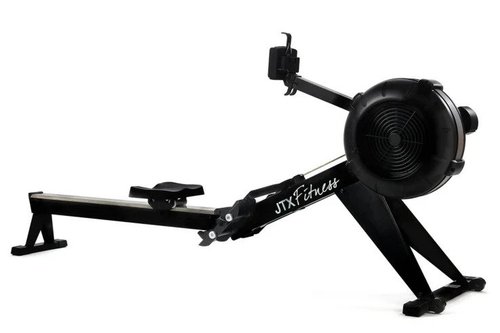 ---
Special mention
The Echelon Row has earned its place as a special mention on our list. It is a highly regarded rower known for its technological integrations and impressive engineering. The handlebar toggles allow you to change the resistance with your fingertips without moving from your seat. In addition to rowing, you can turn the adjustable console to perform non-rowing workouts. And, the rower comes with 32 resistance levels, by far the most out of any machine we've reviewed.
Resistance: Magnetic, 32 resistance levels
Rail length: 212cm
Max weight capacity: 136kg
Product weight: 49kg
Storage: Folding
Requires power connection: Yes
Price: ££££
Retailer: Echelon Fitness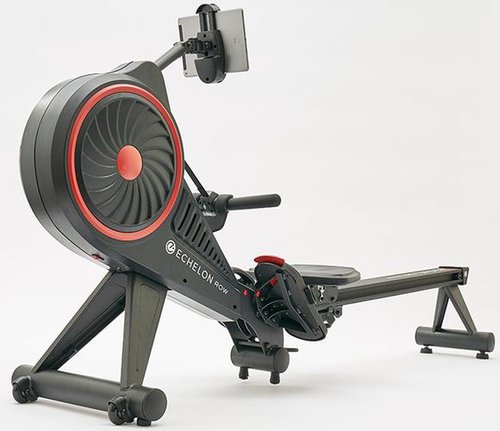 Keep updated with regular content...
We'll only get in touch when we've got something exciting to share, like exclusive discounts and competitions!
Buying Guide
In this buying guide, we will cover the key considerations for buying a rowing machine.
Brand and retailer
One of the best ways to get the best out of a rower is by choosing a good brand.
Some of the biggest names are JTX Fitness, WaterRower, NordicTrack, Echelon, and ProForm. These are tried and tested by many, known for their good quality and promising results.
A couple of lesser-known yet well-reviewed brands on Amazon are Sunny and JLL. These hidden gems have also proven their worth and show that it's not all about a high price point.
And finally, some of the most trustworthy retailers for quality products are JTX Fitness, John Lewis, Amazon, and Fitness Superstore. If you're looking for something reliable, then these retailers are perfect for you.
Quality and Performance
A few things can gauge quality and performance.
First of all, resistance range is a great indicator of performance as it defines the limits of your workout. If the range is narrow, then the rowing can only get so challenging before you can't go any harder.
Next, good comfort and smart ergonomics are signs of high quality. It shows that the designers invested the time to ensure that every aspect of the rowing machine is built to optimise the rower's experience.
And lastly, build durability demonstrates high quality and performance. This is a bit trickier to determine, but good things to look at are the brand and price point. The more reputable the brand or the higher the price, the more likely the rowing machine will be durable.
Technology
Rowing machine technology is continually advancing. This includes screens, metric tracking, workout subscriptions, and compatibility with external devices. Some prefer simpler technology with a basic LCD display. Others prefer integrating technology into their rowing sessions, such as with applications like Zwift, a virtual training app. With more advanced setups, you can attend online rowing classes and even row "around the world." Generally, better technology increases the price of the rowing machine and it's worth noting that it may require an external power supply.
Size and Space
Different types of rowers come in different sizes. Water rowers tend to be the largest, most often with a vertical storage option. Magnetic rowers are generally the most compact and have folding capabilities. Air rowers are a bit larger than magnetic rowers and also usually foldable. Compared to machines such as treadmills and exercise bikes, the indoor rower is much smaller and more suited for a variety of different domestic environments.
Budget
Different price brackets will offer certain features on most rowing machines.
Up until £300 ($420) is the lower end price range for an indoor rower. This is usually a simple magnetic rower with a basic LCD display, a comfortable seat and handles, and a few different resistance levels.
From £300-£600 ($420 - $840), you'll find a medium level air rower or higher-end magnetic rower built with some sturdier materials and more workout options.
The £600-£1,000 ($840-$1400) range will offer a handcrafted wood water rower or advanced air rower, along with integrated technological features such as connected rowing races and online classes.
Above £1,000 ($1400), you can expect to find the most high-end water rowers with built-in tablets, the best quality woods, and the most realistic rowing experience.
In our Best Cheap Rowing Machines blog, you can find the best rowing machines options on a budget.
Buying terms
The buying terms are often overlooked, but it is crucial to take them into account. Delivery can be costly, especially for heavier rowing machines. Installation may be included, depending on the brand. Most rowing machines are easy to assemble, though.
As for warranty and repairs, most higher-end rowing machines come with a warranty of up to two years. Lower end rowers generally come with a 30-day guarantee.
Conclusion
We've covered all you need to know in order to purchase an indoor rowing machine. As you can see, there are numerous factors to take into account before making a decision. There's price, size, quality, and so many other vital things to think about before making the purchase. To make this decision easier for you, we've reviewed many products and selected the ones above based on reviews, trusted sellers, and the quality of the machines. In our view, you can't go wrong with any of the rowing machines mentioned above.
For the rest of your man cave needs and desires, why not explore our site or head over to the Rowing Machines section to see more posts and recommended products!
Affiliate disclaimer: on some or all of the products above, we receive a small commission if you make a purchase via our site. This does not impact the price you pay, but it allows us to keep helping people by writing these reviews, so thank you!