Magnetic rowers are relatively new to the rowing machine world, yet they have quickly proved themselves to go above and beyond in design, practicality, and performance.
As a result, a wide variety of magnetic rowers on the market cover virtually any price point and technological advancement. From a more affordable budget magnetic rower to an advanced high end dual magnetic and air rower, you are sure to find what you need to reach and crush your fitness goals.
What is a magnetic rowing machine?
A magnetic rowing machine utilises magnets in a flywheel to generate resistance, allowing you to perform the optimal rowing workout. No matter how fast you pull, the resistance will always remain constant and even.
In addition to a magnetic rower, you can get a dual air and magnetic rower to increase the difficulty and authenticity of your rowing experience. The dual air and magnetic mechanism provides increased resistance and allows you to feel the positive effect of harder pulls.
In this review, we discuss;
Why buy a magnetic resistance rower?
A magnetic resistance rower comes with many advantages for rowers at all levels.
Quiet
Magnetic rowers are significantly quieter than water and air rowing machines. The magnetic resistance produces little noise and lets you row without bothering your neighbours or drowning out your music.
Control over resistance
Magnetic rowing machines offer precise control over the resistance level. Its technology allows you to adjust the magnets based on your desired rowing difficulty easily. Regardless of how hard you pull, the resistance level will remain the same.
Affordable
While budget water and air rowing machines can be costly, the magnetic rower's price points start low while still maintaining an excellent standard.
Top 7 Magnetic Rowing Machines
We've scanned the market for the best magnetic rowing machines ranging from around £200 ($280) to £1,500 ($2100).
Sunny Health & Fitness is a dedicated distributor that prides itself on helping its customers find the fitness machine they need to meet their goals. Their Dual Function Magnetic Rowing Machine is a high-quality rower equipped with all you need to ensure that you get the most out of your workout. In addition to being compact, it comes with an LCD monitor to track your progress and motivate you to go harder. The design is suited for a practical and sturdy build, including textured footplates, a wide-padded seat, and a non-slip handlebar.
Resistance: 8 levels
Rail length: 183cm
Max weight capacity: 124.7kg
Product weight: 48.6kg
Foldable: Yes
Requires power supply: No
Price: £
Retailer: Amazon

---
The JLL magnetic rowing machine comes with a 12-month warranty and an array of features to make this a machine that's hard to beat given the affordable price. Its LCD monitor will help you keep track of distance, calories, and time simultaneously. Built beyond the expectations of a true magnetic rower, the R200 is direct belt-driven, providing you with the quiet and comfort to row to your heart's content. A spring-loaded knob keeps the machine either in an upright or recumbent position. And, the padded seat comes fitted with wheels to allow for smooth rowing and to maximise comfort.
Resistance: 10 levels
Rail length: 180cm
Max weight capacity: 100kg
Product weight: 26.2kg
Foldable: Yes
Requires power supply: No
Price: £
Retailer: Amazon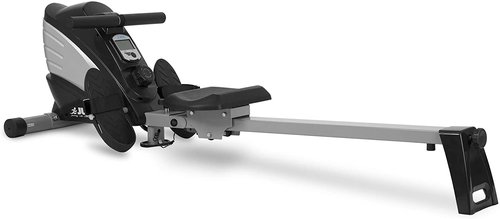 ---
Dripex always pays attention to the details, especially when it comes to their rowing machines. So, they know what they're saying when they promise you a good investment for your health and wellness. Coupled with its sleek design and intelligent build, the Dripex Magnetic Rowing Machine keeps its word and delivers all you need to stay in the best shape. Its LCD display monitor is mounted on an adaptable holder, and the machine itself is suited for upright storage. On top of this, there are rear stabilisers and shock absorbers to keep your rowing safe with minimal impact.
Resistance: 15 levels
Rail length: 179cm
Max weight capacity: 120kg
Product weight: 27.5kg
Foldable: No
Requires power supply: No
Price: ££
Retailer: Amazon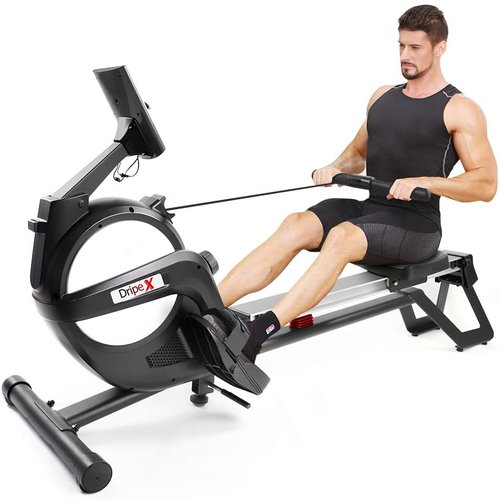 ---
The JTX Freedom Air Rowing Machine boasts dual air and magnetic resistance to advance your home rowing experience. This dual resistance proves to be powerful and consistent, meaning you get an even stroke with every pull. As you row, you'll feel the sturdiness of the robust frame and quality build. The computer console and tablet holder will push you to row harder with the option to race against the computer. And once you're done, stowing it away is a breeze thanks to its easy fold system and transport wheels.
Resistance: 8 levels
Rail length: 180cm
Max weight capacity: 135kg
Product weight: 40kg
Foldable: Yes
Requires power supply: No
Price: ££
Retailer: JTX Fitness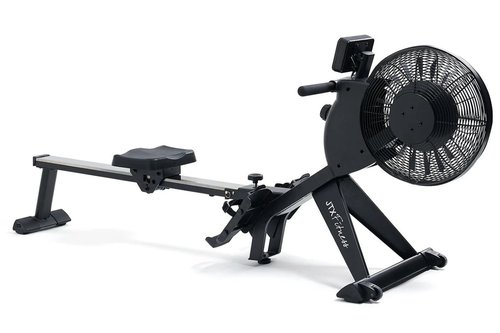 ---
ProForm's mission is to help you train like an elite with their state of the art rowing equipment. The 750R comes fitted with silent magnetic resistance and an inertia enhanced flywheel. Flexibility is guaranteed thanks to the smartly-designed pivoting pedals, adjustable nylon straps, and ergonomic folding design. The large multi-colour display will clearly show all of your metrics, and the tablet holder allows you to customise your experience through follow-along classes and workouts. Additionally, the 750R comes with a free 1-year iFit subscription membership to help you kickstart your journey.
Resistance: 24 levels
Rail length: 218cm
Max weight capacity: 130kg
Product weight: 46kg
Foldable: Yes
Requires power supply: Yes
Price: £££
Retailer: John Lewis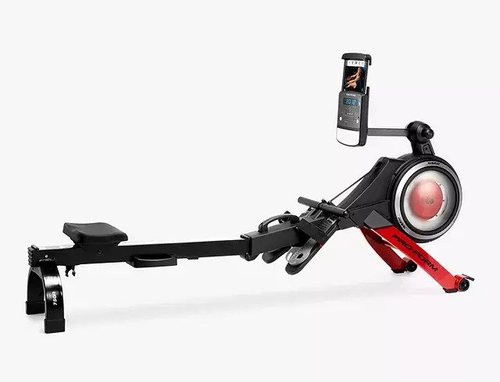 ---
The Echelon Row is your answer to the perfect full-body workout. This smart rower is engineered to integrate into your fitness routine through its adaptable design and optimal gradients. With a connected membership and a tablet, you can have access to thousands of classes led by the field's top instructors. Workouts range from calming meditation to heart-pumping cardio, set on getting your body and mind in top shape. No matter what, Echelon Row's efficient design and immersive community are sure to bring your fitness to the next level.
Resistance: 32 levels
Rail length: 212cm
Max weight capacity: 136kg
Product weight: 49kg
Foldable: Yes
Requires power supply: Yes
Price: £££
Retailer: Echelon Fitness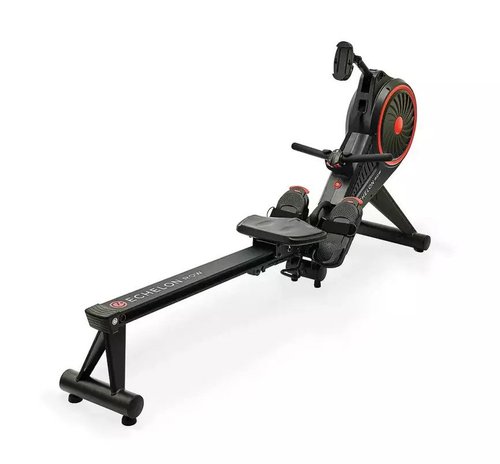 ---
The first thing you'll notice about the NordicTrack RW900 is its 22'' interactive touchscreen. Here, you have access to all of your most important rowing metrics, 30 built-in workouts, and iFit workout capabilities with a free 1-year membership included. The advanced dual magnetic and air resistance will push you further and add additional difficulty to the basic 26 levels of resistance. This rowing machine is also suitable for home use, thanks to its convenient capabilities and foldable design. Furthermore, it stabilises your rowing to enhance your experience and further engage your target muscles.
Resistance: 26+ levels
Rail length: 218cm
Max weight capacity: 130kg
Product weight: 48kg
Foldable: Yes
Requires power supply: Yes
Price: ££££
Retailer: John Lewis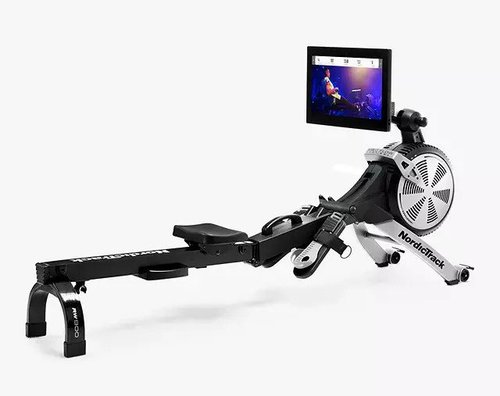 Keep updated with regular content...
We'll only get in touch when we've got something exciting to share, like exclusive discounts and competitions!
Buying Guide
This buying guide will help you decide which magnetic rowing machine is best for you.
Resistance type
The magnetic resistance works by either increasing or decreasing the distance between strong magnets that spin a flywheel with a chain handle attached. Because of this magnetic resistance mechanism, the rowing creates next to no noise. To adjust the amount of resistance, you need to either digitally control the magnets or use sliders.
Using the magnetic resistance as a base, dual air and magnetic rowers utilise the perks of both resistance types to create an enhanced rowing experience. It combines the versatility of the magnetic resistance and the additional difficulty of the air resistance to create an even more challenging rowing experience. You can read more about the difference resistance types in our post comparing magnetic vs water vs air.
Quality and Performance
The magnetic rower performs very well as a piece of workout equipment. It requires little maintenance and can last you a long time, even with consistent use. Cheaper magnetic rowers are often lower quality than water and air rowers, but we have collected several excellent quality magnetic rowers on our recommended list.
Quality is tough to determine in magnetic rowers as most of them are already built with durable materials such as aluminium or steel. Still, some good indicators of quality are prices and brand reputation.
Technology
Magnetic rowing machines are the most precise when it comes to metric tracking. However, their tracking displays can greatly vary depending on the price point and manufacturer. Lower-end magnetic rowers generally come with a basic LCD monitor that can track distance, time, and calories. Other rowers come equipped with a tablet holder for customisable and seamless connected rowing. Finally, higher-end rowers can come equipped with high definition displays to immerse you in any setting you want with the touch of a button. So, if you like to integrate technology into your rowing, magnetic rowers have all the options you could want.
Space
Nowadays, living spaces have been getting smaller, tighter, and more crowded. With this in mind, you'll have to consider how much room you have for a rowing machine. If you're short on space, getting a folding machine is a great solution. Less bulky than water rowing machines, you can store it away in a corner or a closet, out of the way until you need to use it. And, you won't be annoying any neighbours with the quietness of the magnetic resistance.
Budget
The typical price bracket of a magnetic rowing machine generally varies from £200 ($280) to £1,500 ($2100). They are typically more affordable than water and air rowing machines because of their straightforward build and often compact design. A cheaper magnetic rower can provide you with a sturdy frame, eight or more levels of resistance, and an LCD display for all of your basic rowing metrics. If you're on a budget then you should read our post on the best affordable rowing machines. A more expensive magnetic rower will usually come with stabilisers, over 20 levels of resistance, and an advanced high-quality monitor.
FAQs
Are magnetic rowing machines any good?
With a wide range of resistance levels and precise metric tracking, magnetic rowing machines are great for indoor rowing. They are just as powerful as water and air rowers while being significantly quieter and more compact.
What is the best magnetic rowing machine?
There are many contenders for the best magnetic rowing machine. For the most well-rounded experience, the ProForm 750R magnetic rowing machine will provide you with quality and performance for a reasonable price.
Are magnetic or air rowers better?
It's almost impossible to determine whether a magnetic or air rower is better. Depending on your personal needs and taste, either rower can greatly benefit you. If you can't decide, then a dual air and magnetic rower could offer the best of both worlds.
Conclusion
All in all, there are many factors to take into account before purchasing a magnetic rowing machine. For minimalistic and affordable rowing, the JLL R200 Rowing Machine is the best choice as it is both comfortable and high quality. For more advanced rowers, the NordicTrack RW900 is perfect for increasing the challenge with the help of dual resistance. However, no matter which magnetic rower you choose from our list, you are sure to get a great workout. Happy rowing!
If you're still not sure what rower to go for then check out our ultimate guide on buying a rowing machine to help you work out what to get.
For the rest of your man cave needs and desires, why not explore our site or head over to the Rowing Machines section to see more posts and recommended products!
Affiliate disclaimer: on some or all of the products above, we receive a small commission if you make a purchase via our site. This does not impact the price you pay, but it allows us to keep helping people by writing these reviews, so thank you!