When it comes to buying a stationary exercise bike for your home it can be very overwhelming. There are a million different choices and it's not easy to identify which one would be the best purchase for you and your needs. Luckily, that's where we come in!
We've scoured the internet to find only the best of the best, and we've drafted this buying guide to break down the top bikes in each category so that you don't have to. Read on below to make sure you're considering all the necessary factors when finding the right exercise bike for you.
But enough chit-chat, let's get to it!
How do I choose an exercise bike?
To choose the best bike for you, first decide between an upright bike, a spin bike, or a recumbent bike. Then you should consider the build quality, the levels of resistance, overall ergonomics, and price to figure out the right configuration for you. The last consideration is the level of technological integration you're looking for, and how much space you have for the bike.
In this review, we discuss;
Why buy an exercise bike?
Weight loss and muscle toning
Exercise bikes are one of the simplest and most effective ways to lose weight and tone your muscles. They offer a deceptively well-balanced cardio and muscular workout that will get you results if you stick with it consistently. We've written a whole post on the science behind this which you can read here.
Cardio fitness
This one is pretty self-explanatory, but exercise bikes are an excellent way to train your body's cardiovascular response which improves your heart condition and general fitness. It's also great for mental clarity which is worth its weight in gold these days.
Low impact exercise
Unlike running or other impactful exercises, a stationary bike gives you a great workout without putting unnecessary pressure on your joints. You can greatly minimize the risk of injury but without compromising any aspect of the workout itself.
What type of exercise bike should you get?
There are a few key categories when it comes to exercise bikes and it's important to understand the nuances of each when determining which one is right for you.
Upright
Upright bikes are the most comfortable options out there with the bike standing, as the name suggests, upright. It has a broad seat, higher than normal handlebars and is best suited for those who are coming to stationary cycling for the first time.
Spin
Spin bikes are less comfortable for beginners but offer much better performance for more experienced riders. The flywheel in the bike is heavy and so it requires more effort to get things going and you're not able to coast. When you stop pedalling, everything stops. These are the bikes that you'll see in spin classes.
Recumbent
Recumbent bikes are the most relaxed type that you'll find. Instead of being upright, you end up in a more horizontal position where the pedals are out in front of you rather than being under your seat. It has a comfortable back rest and can be used by almost anyone regardless of their physical capability.
Turbo trainer
Turbo trainers are not strictly exercise bikes but they are still worth mentioning. These are devices that transform a real road bike into a stationary bike by hooking up the wheels to the turbo and providing resistance that closely mimics how a real ride feels. This is ideal for those who already have a bike or who want to replicate the outdoor cycling experience as closely as they can.
It's worth noting that we've already written extensively on these differences, so if you're looking for more detail – be sure to check out our blog here.
Top 8 exercise bikes
To come up with our top picks, we've chosen our favourites from our write-ups on upright bikes, spin bikes, and recumbent bikes. We have more detailed posts on each of these categories that are good if you want to dig into more detail on any specific category (see below). We don't cover turbo trainers in this post because they aren't technically exercise bikes, but we do have a post on them as well which will give you all the information you need.
Now, let's get into the reviews of our recommended picks for each type.
Best affordable upright
This upright bike offers incredible quality at a very reasonable price. It feels robust and sturdy and should last you for a very long time assuming you take care of it. From a technology perspective, it has a very simple LCD screen that gives you the key metrics that you need and when combined with the built-in heart rate monitor – you'll always know how you're performing. The seat is very amenable to a wide range of people and it can be adjusted in various ways to get the most comfortable fit. All in all, you simply won't find a better option at this price point – it's an absolute bargain.
Resistance: Magnetic, with 8 resistance levels
Max Weight Capacity: 110kg
Product weight: 26.7kg
Requires power connection: No (requires 2 x AAA batteries for the LCD screen – included)
Price: £
Retailer: Amazon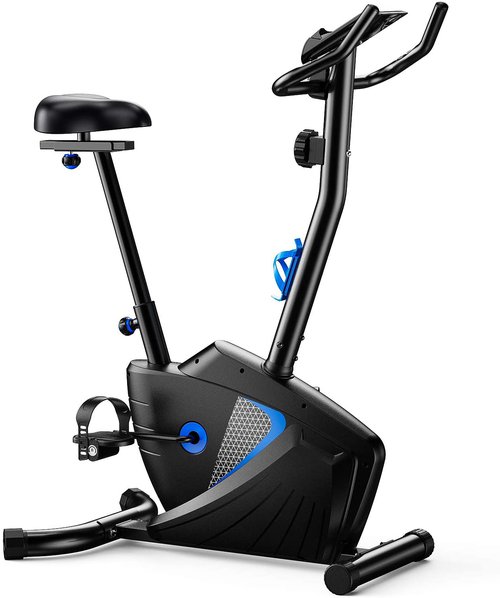 ---
Best high spec upright
This bike is deceptively powerful and gives you a lot more than you realise on first glance. The design makes the bike really comfortable but it also comes with some serious resistance capability to give you those tough workouts when you need them. There's a small screen to track most of the metrics, but you can also connect your indoor cycling app of choice very easily to plug into that ecosystem as well. It just manages to tick all the boxes and give you the best possible performance in an upright exercise bike. Grab one of these and trust us, you won't be disappointed.
Resistance: Magnetic, with 16 resistance levels
Max Weight Capacity: 150kg
Product weight: 63kg
Requires power connection: Yes (or spend an extra £200 for the self-powered version)
Price: £££
Retailer: JTX Fitness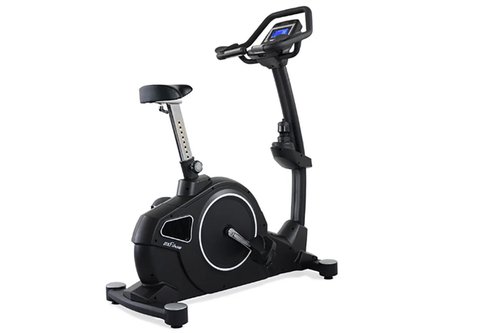 ---
Best folding upright
When this bike is folded away, you'll barely know that it's there. But when it's up and running, there's almost nothing it can't do. Thanks to a sophisticated crank system, this bike runs almost silently and delivers a deceptive level of resistance for such a compact machine. There are built-in pulse sensors that allow you to accurately track how hard you're working and keep to a desired training plan as a result. The mix of precision and simplicity makes this a dream exercise bike for anyone who wants to be able to move it at a moment's notice. It's convenient and powerful – an incredible combination.
Resistance: Magnetic, with 8 resistance levels
Max Weight Capacity: 136kg
Product weight: 23kg
Requires power connection: No (requires 2 x AA batteries for the screen – included)
Price: £
Retailer: Amazon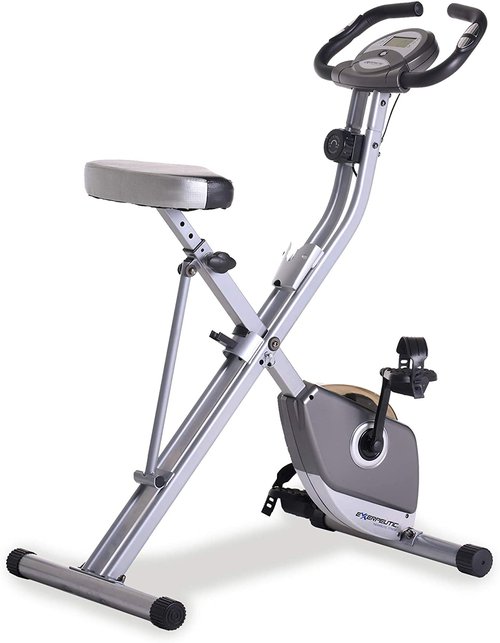 ---
Best affordable spin bike
Typically, you get what you pay for when it comes to spin bikes, but this one is a diamond in the rough. We can't quite believe how good it is for the price. It boasts a really powerful 20kg flywheel that does an incredible job at simulating real pedalling and adapts the resistance dynamically as you go. This precision allows you to tailor your workouts specifically to what you're trying to accomplish – which is a big deal for many buyers. The bike is well made and well-designed but it's worth mentioning that it is a bit bulky. Don't expect to be moving this thing around – once it's in place, it's going to stay there.
Resistance: Infinity resistance
Max Weight Capacity: 140kg
Product weight: 42kg
Requires power connection: No
Price: ££
Retailer: JTX Fitness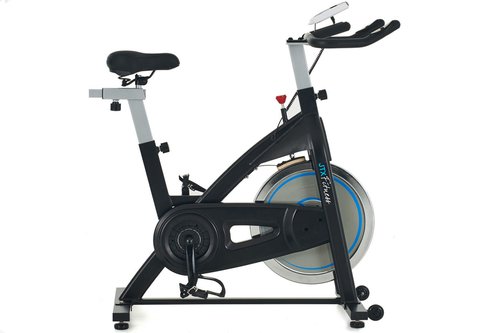 ---
Best high spec spin bike
This Echelon Smart Bike brings the magic of technology to an already impressive spin bike frame. It manages to strike a balance between its compactness and its functionality, giving you the most efficient spin bike experience on the market. When connected to their online community, you have access to a wide range of on-demand and live classes that give you full immersion from the comfort of your own home. Quite simply, it's the best value high spec spin bike that money can buy – giving you all the bells and whistles you could need.
It's worth mentioning that they also have two other models that are of interest – the Echelon EX-5S (which is more advanced and more expensive) and the Echelon Connect Sport (which is their bottom of the range model. We've written extensively about smart exercise bikes here, so be sure to check that out if you're interested.
Resistance: Magnetic, with 32 resistance levels
Max Weight Capacity: 136kg
Product weight: 57kg
Requires power connection: Yes
Price: ££££
Retailer: Echelon Fitness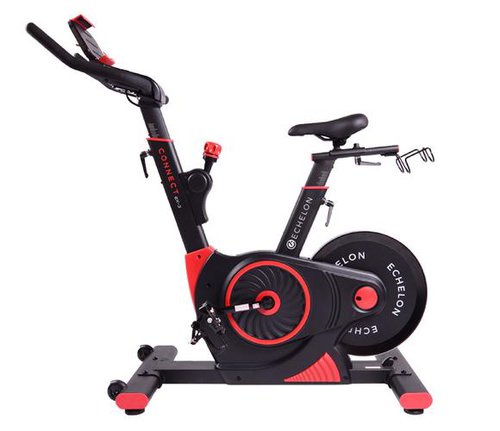 ---
Best affordable recumbent
What we like most about this bike is how beginner-friendly it is. Regardless of where your fitness journey starts, you'll find this a comfortable recumbent machine that can get those feet moving in no time. Even better, as you get fitter, it progresses with you thanks to its layers of different resistance levels. It has a sleek, modern design with relatively small space requirements and is a great option for anyone who wants the back support while still challenging themselves on a cardiovascular level.
Resistance: Magnetic, with 8 resistance levels
Max Weight Capacity: 100kg
Product weight: 24kg
Requires power connection: No
Price: £
Retailer: Amazon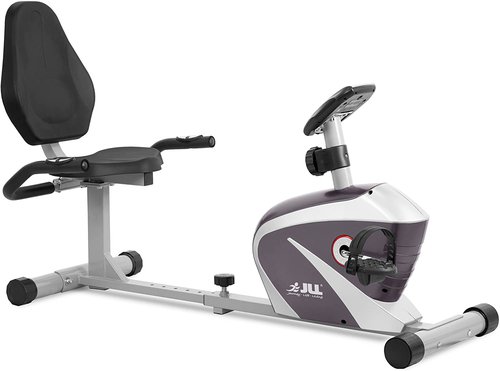 ---
Best high spec recumbent
If you're looking for the cream of the crop in terms of recumbent bikes, you've found it. This model from ProForm delivers world-class performance, generous lumbar support, an immersive LCD screen, plenty of on-demand workouts – and it does all this with a relatively simple design. This machine is built to last the test of time and take you through your cycling journey without putting any additional stress on your joints or your back. We don't hesitate for a second recommending this as it's a highly capable exercise bike that gets the job done every single time.
Resistance: Magnetic, with 22 resistance levels
Max Weight Capacity: 130kg
Product weight: 48kg
Requires power connection: Yes
Price: £££
Retailer: John Lewis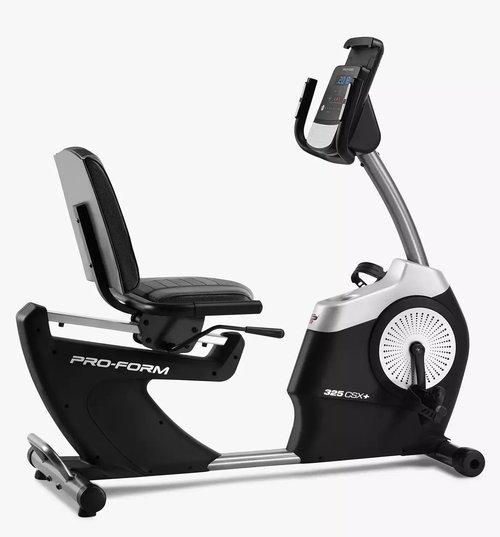 ---
Best folding recumbent
This is truly a portable exercise bike in every sense of the word. It's light, compact, and perfect for taking your workout on the go. When you do pull it out and put it through its paces, we think you'll be quite surprised by the level of performance it delivers. The small LCD screen gives you some limited feedback but at the end of the day, you're going to need to track your progress externally because this bike has eschewed everything but the essentials. When it comes to folding recumbent bikes, this is the way to go.
Resistance: Magnetic, with 8 resistance levels
Max Weight Capacity: 136kg
Product weight: 19.5kg
Requires power connection: Yes
Price: ££
Retailer: Amazon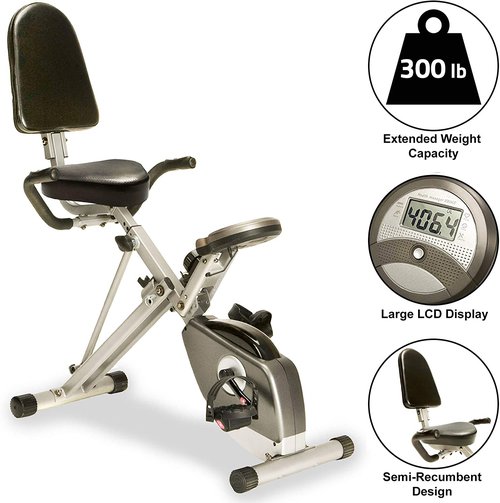 Keep updated with regular content...
We'll only get in touch when we've got something exciting to share, like exclusive discounts and competitions!
Buying Guide
Below we discuss the key considerations when buying an exercise bike.
Brand and retailer
One of the best ways to ensure that you have a good buying experience is to go with a trusted brand and retailer that have a strong track record behind them. By sticking with those companies who have already delighted customers at scale, you'll avoid the nasty experience of a bike that doesn't live up to expectations.
The brands that we think are most trustworthy include Peloton, Echelon, Wattbike, Technogym, JTX Fitness, NordicTrack, ProForm, and Life Fitness. In addition, there are a couple of lesser-known brands that we stand behind including Exerpeutic and Ultrasport for folding bikes, and JLL for traditional stationary bikes.
Quality and Performance
When choosing a bike, it's important to consider some of the quality and performance aspects that are going to affect your workout experience:
Resistance refers to the difficulty that is artificially added to the bike to simulate various riding conditions, and the more levels of resistance that you have, the more precise your workouts can be, according to your fitness level at the time. Typically, the resistance in stationary bikes is either provided through a brake like system or through a magnetic system. The magnetic system tends to provide a smoother experience and that's why you'll find most modern options will go that route.
Saddle Adjustments. Your riding position is going to vary significantly depending on your height, mobility, and core strength. As such, you ideally want to go for a bike with a lot of saddle adjustability so that you can get to the perfect position for you specifically. If you aren't able to do this, you won't have the most comfortable experience and, in the worst case scenario, you risk injuring yourself.
Ergonomics. Building on the point above, you want the overall ergonomics of the bike to be well considered. Cycling can be notoriously uncomfortable if things aren't set up right so take your time to find the right ergonomic setup for you and ensure that your chosen bike can give you that position consistently. Your back will thank you.
Flywheel. This is the heart of the bike and it is the component that stores the rotational energy and ensures that your pedaling creates smooth movement. The quality and sophistication of your flywheel is going to affect that overall performance and so it's something to look into seriously if you're at the top end of the fitness spectrum.
Technology
Some bikes pride themselves on their technology so you need to decide what is most important to you. Most bikes will have some form of LCD screen to track basic metrics, but if you want more advanced features, you'll need to make sure your chosen bike has that capability. It's also worth considering whether the bike has any pre-programmed workouts that you can choose from and/or whether you can connect external apps like Zwift or Strava to the bike itself.
The most sophisticated technology is found within the smart bike space, with companies such as Peloton and Echelon building powerful membership capabilities for your bike to connect to the internet and attend spin classes in real time. These often come for an extra cost though, so be sure to take that into consideration if you want your bike to be completely technologically enabled.
Size and Space
A crucial logistical consideration you have to make when buying an exercise bike is whether you have the space for it. Each bike has a slightly different footprint and so you'll need to make sure that the bike you purchase will be able to fit into the space you demarcated at home. If you are really struggling to find space, folding bikes can be a great option for you and we've published a full guide on those particular bikes here.
Budget
Exercise bikes range across a wide price spectrum and so you want to make sure that you understand what your budget is before you start shopping. Don't spend more than you can afford to – there are lots of inexpensive options to go for if you can't afford the top of the range. We've already created a comprehensive guide to cheap exercise bikes so if that's something that you're looking for, be sure to check it out here.
Buying terms
A common mistake that first-time buyers make is that they only consider the cost of the bike upfront and not any of the additional price considerations. Remember that you're going to need to have the bike delivered to your house and potentially installed – so keep those costs in mind as you look at different options.
You also want to pay attention to the warranty that each brand offers – because this can be a crucial consideration in terms of repairs and maintenance. When a company has a generous warranty, it shows that they stand behind their product and its robustness to general wear and tear.
Conclusion
There we have it. A comprehensive buying guide to help you select the very best home exercise bike for you. Each one we've recommended has slightly different features and characteristics, but we hope that the information above has given you enough context to be able to select the best option for you.
At the end of the day, it's all about getting that bike in your house and building a consistent exercise habit that's going to push yourself to your goals. So, pick the best one for you – and let's get to work!
For the rest of your man cave needs and desires, why not explore our site or head over to the Exercise Bikes section to see more posts and recommended products!
Affiliate disclaimer: on some or all of the products above, we receive a small commission if you make a purchase via our site. This does not impact the price you pay, but it allows us to keep helping people by writing these reviews, so thank you!