Recumbent exercise bikes, otherwise known as recumbent stationary bikes, make cycling more accessible to a wider range of people offering a more comfortable and reclined riding position. They are a fantastic addition to any home gym set-up, catering for all experience levels and in some cases even offering users the option to work as they work-out.
In this comprehensive article, we will take you through why a recumbent exercise bike is well worth the investment, the best products on the market, and a helpful buying guide so you can pedal your way towards your fitness goals. But first, an important question we hear a lot...
What is a recumbent exercise bike?
A recumbent exercise bike is a stationary piece of home gym equipment that replicates a pedalling motion from a reclined position. Typically recumbent exercise bikes have a larger seat and backrest, placing an emphasis on comfort.
In this review, we discuss;
Why Buy a Recumbent Stationary Bike?
Recumbent exercise bikes offer a host of physiological benefits to those who want to add cycling to their fitness regime. Maintaining your health requires a fine balance between activity and recovery, and finding this balance is made easier by recumbent bikes as they offer a more comfortable and sustainable cycling experience. Here are a few of the key reasons to consider buying one...
Less strain on the body
Cycling is a great example of a low impact sport that still delivers an intense workout. For those with particular health concerns or joint problems, a recumbent exercise bike places less strain on the lower back and knees to ease the symptoms of joint pain and reduce the chance of injury.
Comfort
Bike saddles are notorious for discomfort but recumbent exercise bikes offer a well padded seat and backrest to counter that. A more comfortable riding position allows you to concentrate on why you got on the bike in the first place, to burn calories!
Strength
Recumbent exercise bikes aren't just about comfort, they also challenge different muscles compared to their upright counterparts. The riding position works your hamstrings and glutes providing you with functional strength gains as well as calorie burn. For those looking to improve their lower body strength, a recumbent exercise bike is the perfect piece of equipment for targeting the glutes and hamstrings.
Top 8 Recumbent Exercise Bikes
We have scanned the market to bring you our list of the top recumbent home exercise bikes out there, catering for a variety of budgets and experience levels.
The first recumbent exercise bike on our list offers fantastic build quality at an affordable price. The RE100 from JLL offers a simple yet effective design providing a comfortable workout from any of 6 seat positions. With 8 levels of resistance there is great scope for progression, catering for beginners and experienced cyclists alike. While not a foldable recumbent bike the RE100 has a low profile meaning it won't take over your living space. The RE100 also doesn't compromise on comfort with a cushioned seat and sizeable back rest with lumbar support.
Resistance levels: 8
Requires power connection: No
Max user weight capacity: 100kg
Product weight: 24 kg
Price: £
Retailer: Amazon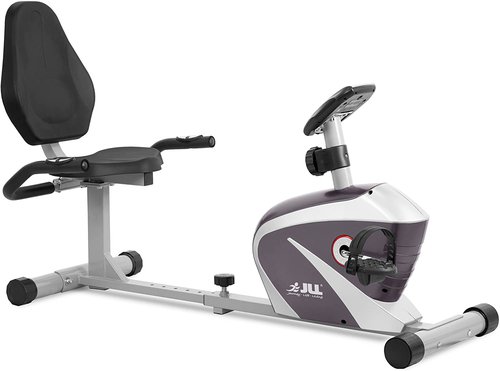 ---
The Marcy ME-709 is both compact and sturdy in its design. With a heavy duty construction you can pedal with peace of mind. The bike fits seamlessly into your home workout space with a low profile and a stylish design. This bike is also the perfect piece of equipment for those who struggle with injuries or joint pain. The seat and backrest are padded with high density foam and it's easy to mount and dismount before and after your workout. On top of that, the LCD screen allows users to track their fitness through a variety of metrics.
Resistance levels: 8
Requires power connection: No
Max user weight capacity: 110kg
Product weight: 28 kg
Price: £
Retailer: Amazon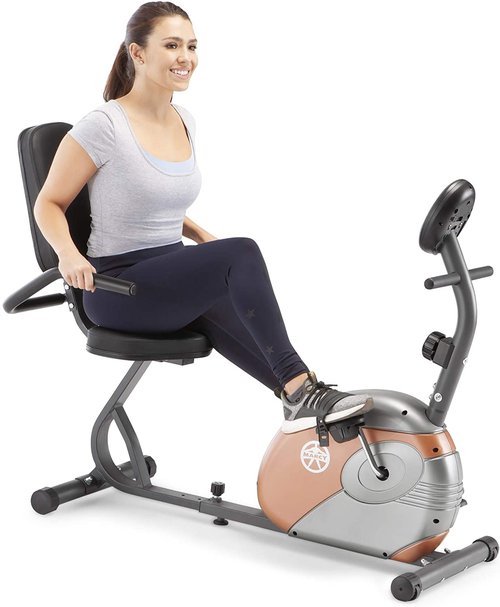 ---
For those with style in mind the XS Sports B400R is a particularly attractive option. With a black-out design and red accents, the B400R will make any home fitness space look like a high end gym. But there's also substance as well as style, with 8 different resistance levels and an LCD screen which combine to allow for progression and comprehensive fitness tracking. The B400R has a larger profile than most, but when your recumbent exercise bike looks this good, why wouldn't you want it to stand out?
Resistance levels: 8
Requires power connection: No
Max user weight capacity: 110kg
Product weight: 25 kg
Price: ££
Retailer: Amazon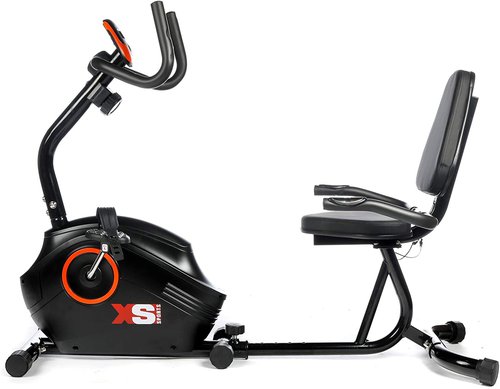 ---
The first folding recumbent exercise bike on our list is made by Exerpeutic. This bike is small in profile but mighty in performance. Despite its folding capabilities the 400XL can still support users of up to 136kg. The item itself is only 19.5kg making it one of the most portable on the market. It also features a LCD display to keep your goals on track. If you have a smaller home workout space then this product is ideal, it will fold away neatly in the corner but offer a great workout when it's time to start pedalling. If you're looking for something even sturdier, then the older brother Exerpeutic Gold 525XLR can support users up to £181kg!
Resistance levels: 8
Requires power connection: No
Max user weight capacity: 136kg
Product weight: 19.5 kg
Price: ££
Retailer: Amazon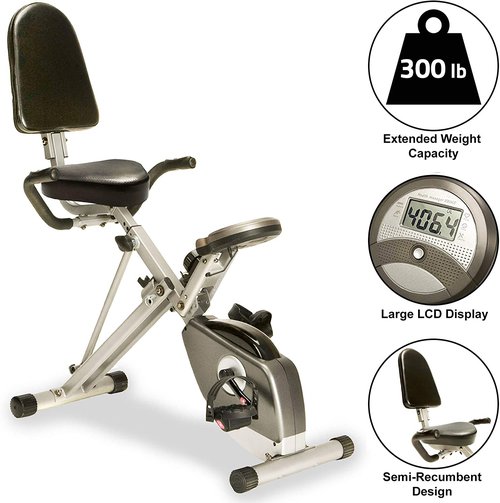 ---
This recumbent exercise bike features an adjustable desktop for those who want to take productivity to the next level. Whether you are working, browsing, or watching Netflix you can do it while you workout. In this day and age with remote working a prominent feature of everyday life it's important that we adapt, and with the Exerpeutic 2500, exercising at home has never been more convenient. However, this bike is also about performance and includes 14 resistance levels so you can switch between leisurely ride and intense workout. In addition to an LCD screen you can pair your bike with a free fitness app so you can track your fitness on the go.
Resistance levels: 14
Requires power connection: No
Max user weight capacity: 113kg
Product weight: 33 kg
Price: £££
Retailer: Amazon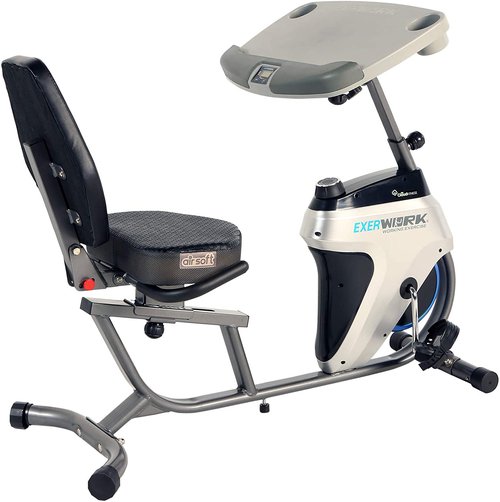 ---
NordicTrack have long been a trusted name when it comes to home fitness equipment and all their expertise and experience has gone into the VR19 recumbent exercise bike. This is truly a level up from other bikes on the market, with 22 resistance levels and a 5" interactive screen. Its silent operation delivers resistance that allows you to burn calories while you work, read or watch. It also comes with a free 1-year subscription to iFit, an app that gives you workouts at your fingertips and allows you to set goals as well as follow cycling routes to race against friends.
Resistance levels: 22
Requires power connection: Yes
Max user weight capacity: 125kg
Product weight: 48 kg
Price: £££
Retailer: John Lewis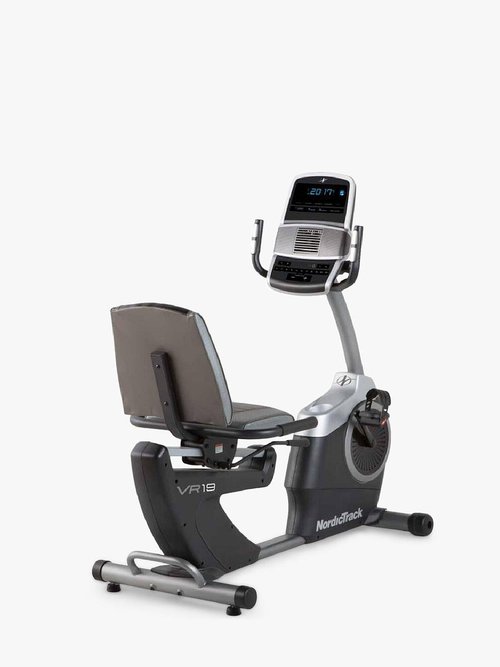 ---
The 325 CSX+ from ProForm is an incredibly powerful piece of equipment that delivers exceptional quality in every department. From a performance perspective, this recumbent exercise bike has 22 different resistance levels, catering for even the most experienced gym-goers. It also provides the comfort you expect from a recumbent bike with added cushioning and lumbar support. With 24 pre-loaded workouts you'll never be short of motivation and you'll be able to vary your workouts to keep your fitness goals on track by using the 5" display.
Resistance levels: 22
Requires power connection: Yes
Max user weight capacity: 130kg
Product weight: 48 kg
Price: £££
Retailer: John Lewis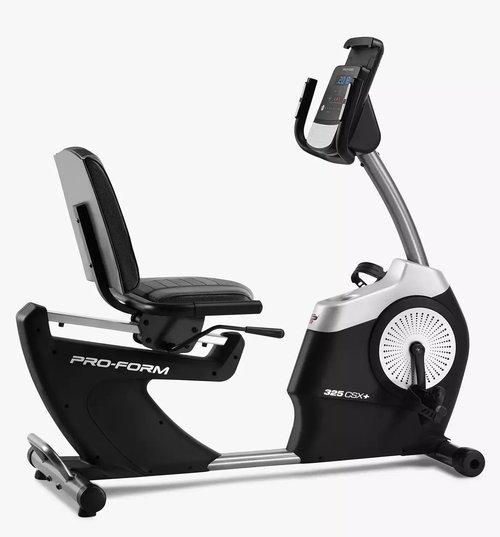 ---
The NordicTrack Commercial VR25 brings the quality you expect from a high end gym into your home. This recumbent stationary bike has everything you need for an intense workout and more, including digital quick touch resistance and iPod compatible bluetooth audio. The stylish design is backed up with serious quality including 26 resistance levels from silent magnetic resistance.
Resistance levels: 26
Requires power connection: Yes
Max user weight capacity: 158kg
Product weight: kg
Price: ££££
Retailer: John Lewis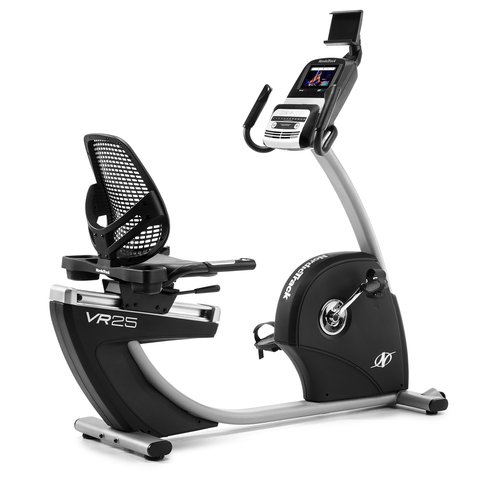 Keep updated with regular content...
We'll only get in touch when we've got something exciting to share, like exclusive discounts and competitions!
Buying Guide
There's a lot to think about when buying a recumbent home exercise bike. In this buying guide we cover the most important things to consider and questions to ask yourself.
Quality and comfort
For many prospective recumbent exercise bike buyers, comfort is paramount. Generally speaking these bikes provide exceptional comfort compared to other home gym equipment, but it's important to think about your individual needs. For example, if you need an adjustable seat or lumbar support make sure these are a feature of the bike you are looking at.
In terms of quality you need to assess the intensity and frequency of your workouts. If you are exceeding 3 workouts a week or pushing yourself at high resistance levels you should look at more expensive options as they have the build quality to match your goals. If you are looking for a more leisurely workout to maintain fitness then the cheaper options will suit your needs perfectly
Size and space
It's especially important to consider size and space when it comes to recumbent exercise bikes as they don't have the smallest footprint. Make sure you measure out a designated space in your home where the bike will go, and if you are short for space then consider a foldable recumbent bike which you can store out of sight when you aren't using it. You can find our favourites in our blog on the Best Folding Exercise Bikes.
Resistance
Typically recumbent exercise bikes utilise magnetic resistance but based on their design some models can be noisier than others when in use. If a quiet exercise environment is important to you, then consider a more expensive bike that promises silent operation. Resistance levels can also be toggled in a number of different ways. High end models allow you to change resistance at the touch of a button, while cheaper bikes will often use a dial for you to manually operate; consider which you'd prefer and how much you are willing to spend.
Different bikes also offer different levels of resistance. For beginners and intermediate cyclists 8 levels will be enough but if you are an ambitious cyclist you may well need up to 22 different levels to keep pushing yourself week to week. If high resistance is important to you then it's worth considering whether a spin bike is what you're looking for; you can see our favourites in our post on the Best Spinning Bikes. Note that they won't offer the comfort of a recumbent bike, though.
Extra Features
Some of the recumbent bikes on our list have specific features such as a desk or wheels to help you move the bike around. From a tech perspective many bikes include screens, preprogrammed workouts, and pulse monitors. This tech is especially important to those with ambitious cycling goals as it allows you to precisely track your progress. Consider what extra features would make your fitness goals easier to achieve and select your bike appropriately.
Budget
The price of recumbent exercise bikes varies greatly between the bottom and top end. For under £200 ($250) you can get a basic model which will provide moderate resistance, basic fitness tracking, and a comfortable seat and backrest. As you get close to the £500 ($650) mark resistance levels reach up to 22, seats provide superior comfort, and you can track your fitness on 5" screens as well as paired apps.
Consider your fitness ambitions, if you are looking to make a serious transformation then be prepared to part with the extra cash, however, if you are looking to maintain your current fitness levels you can get what you need for under £200 ($250). If price is your main consideration then check out our post on the best affordable exercise bikes.
FAQs
Recumbent vs upright exercise bike: which is better?
This really depends on what you are looking for. If comfort is your number one priority then a recumbent exercise bike will definitely suit your needs better. However if you are looking for something that will take up less space, then an upright bike has a smaller footprint. In terms of performance both offer an intense workout as well as fitness tracking so consider your space and comfort requirements in order to decide which is better for you.
For a full comparison of recumbent vs upright vs spin, check out our post here.
Are recumbent bikes good for weight loss?
Yes! Recumbent exercise bikes are very good for weight loss. The riding position challenges your lower body muscles to burn calories. While you aren't able to reach the same intensity as on a spin bike, consistent and high resistance cycling on a recumbent bike is highly effective for weight loss.
Conclusion
Our comprehensive recumbent exercise bike buying guide takes the leg work out of shopping for home gym equipment. We've reviewed the best and most trusted sellers to bring you the top recumbent exercise bikes on the market with options for all prospective buyers.
For those with a smaller budget looking to maintain their fitness, consider the JLL RE100, its compact and sturdy design makes it the perfect entry level option while also allowing room for progression. For serious cyclists the NordicTrack VR-19 offers a variety of different workouts and resistance levels so you can take things up a gear!
If you're still not sure that a recumbent bike is right for you then check out our ultimate guide on buying an exercise bike to help you work out which bike is right for you.
For the rest of your man cave needs and desires, why not explore our site or head over to the Exercise Bikes section to see more posts and recommended products!
Affiliate disclaimer: on some or all of the products above, we receive a small commission if you make a purchase via our site. This does not impact the price you pay, but it allows us to keep helping people by writing these reviews, so thank you!