Are you interested in purchasing an indoor rowing machine for your home? It's no surprise, rowing provides an excellent low-impact cardio workout — and it's one of the best forms of exercise out there today.
In this article, we'll be covering the main considerations when looking for an inexpensive rowing machine, as well as sharing our top 7 favourite indoor rowers. We have done the research to find the best products so that you don't have to, all ranging from £150 to £550 ($200 to $750). While these rowing machines are affordable, they have also been checked for good quality, reputable brands, and trusted retailers.
In this review, we discuss;
Is an inexpensive indoor rower right for you?
Besides the price, there is so much to consider when shopping for a budget rowing machine. Here are a couple of things to be aware of when buying a cheap rower of your own.
Quality and durability
Cheaper rowing machine models may try to cut down on costs by using materials that aren't durable. If you're looking for a long-term fitness investment for your home, you may want to consider increasing your budget. Otherwise, look for high-grade materials such as steel and aluminium, and stay away from plastic bearings. Luckily, the affordable rowing machines we've included here are all made from more robust materials.
Try before you buy
If you are unsure if you want to make a lifelong investment in an expensive rowing machine, then starting with a cheaper version is excellent for testing the waters. See how you handle rowing consistently, whether you have space at home to store the machine, as well as if you enjoy home rowing enough to validate an expensive purchase.
Top 7 Cheap Rowing Machines
Without further ado, here are our top 7 affordable and cheap rowing machines. We've covered a wide range of indoor rowers so that you can choose what's best for you.
First up, the Body Sculpture BR3010 is your go-to inexpensive home gym setup. It is foldable and lightweight, making it easy to store at home and spread out once it's time to work out. The rowing machine boasts a built-in computer that monitors your workout and clearly displays your metrics. For those who are unfamiliar with cable resistance indoor rowing machines, the Body Sculpture Store offers a complementary instructional DVD to ensure that you know this rower inside and out before you've even started.
Resistance type: Cable
Foldable: Yes
Max weight capacity: 100kg
Product weight: 16kg
Price: £
Retailer: Amazon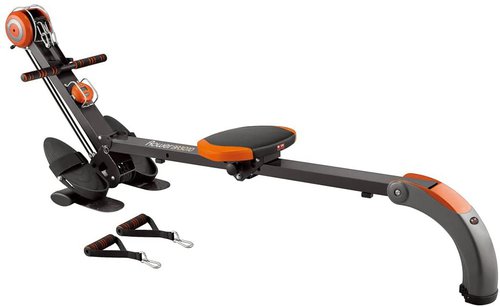 ---
The Sunny Dual Function Magnetic Rowing Machine is sleek, foldable and versatile, giving you more than the classic rowing workout. Its dual function allows you to perform upper body exercises from the comfort of the rowing seat, giving you the chance to spice up your workout and tone your arms easily. With eight different resistance levels and an LCD monitor to track your performance, this rower is guaranteed to challenge you.
Resistance type: Magnetic
Foldable: Yes
Max weight capacity: 125kg
Product weight: 28.5kg
Price: £
Retailer: Amazon

---
JLL, a company proud of its great range of cardio machines, came out with a new home rowing machine in 2020 that checks all the boxes for a good workout investment. The rower has ten levels of magnetic resistance to challenge your rowing sessions, as well as a detailed LCD monitor display to keep you on track. It is foldable and has built-in wheels, allowing for smooth transportation without scratching the floor.
Resistance type: Magnetic
Foldable: Yes
Max weight capacity: 100kg
Product weight: 23kg
Price: ££
Retailer: Amazon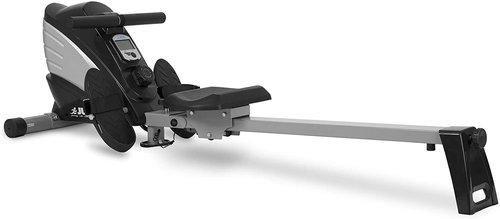 ---
With 15 levels of adjustable resistance, you are bound to make the most out of your rowing session with the help of the Dripex rowing machine. Magnetic rowing machines are known to be quieter than their air and water rower counterparts. However, more than that, this indoor rowing features a double aluminium sliding rail, making it an exceptionally smooth and silent addition to your home. Additionally, its LCD display monitor allows you to track your rowing with ease. While not foldable, this rowing machine can be stored upright in tighter spaces.
Resistance type: Magnetic
Foldable: No
Max weight capacity: 120kg
Product weight: 27kg
Price: ££
Retailer: Amazon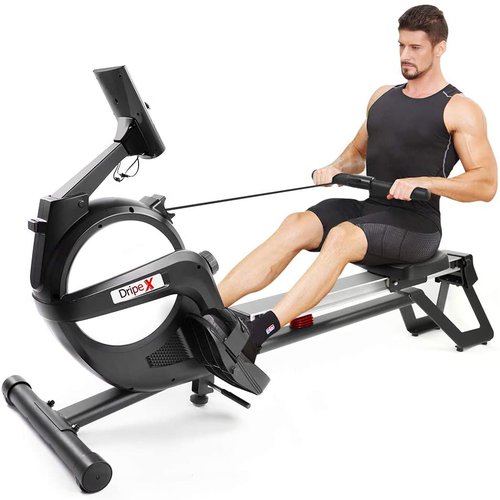 ---
Another one from Sunny Health, their water rowing machine easily made it onto our list. This water rowing machine differs from the usual magnetic rower, utilising water in a tank as the main force for creating resistance. To cleverly mimic the feel of rowing in a body of water, it uses 16 blades to push the water as you row. And, unlike more archaic water rowing machines, this one is harnessed with a sophisticated fitness meter to track your metrics and push you to row your best. For storage, it can be stored upright and comes with wheels for hassle-free transportation.
Resistance type: Water
Foldable: No
Max weight capacity: 113kg
Product weight: 42kg
Price: £££
Retailer: Amazon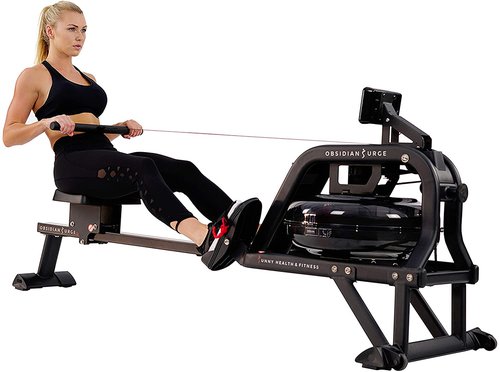 ---
John Lewis includes a two-year guarantee on the Pure Design water rowing machine. The VR1 promises to replicate the feel of rowing on water and more, sporting a modern aluminium design and a monitor display. It can also be stored upright and wheeled from place to place. VR1 owners applaud it for its simple assembly and quiet operation. An enjoyable workout machine, you'll find yourself entranced by the relaxing sound of water moving in the tank.
Resistance type: Water
Foldable: No
Max weight capacity: 120kg
Product weight: 40kg
Price: £££
Retailer: John Lewis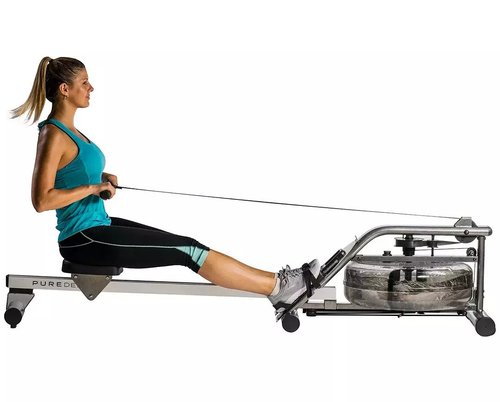 ---
Last but not least on our list is the JTX air and magnetic rowing machine. Thanks to dual resistance technology, each and every stroke on this rower is smooth and powerful. It is the most advanced rower on our list, easily covering the basics needed to transform your indoor rowing experience to one unmatched. The dual rower is foldable and has transport wheels for easy storage. Its metric display comes with a tablet holder, and you can even race against the rowing machine's computer!
Resistance type: Air and Magnetic
Foldable: Yes
Max weight capacity: 135kg
Product weight: 40kg
Price: £££
Retailer: JTX Fitness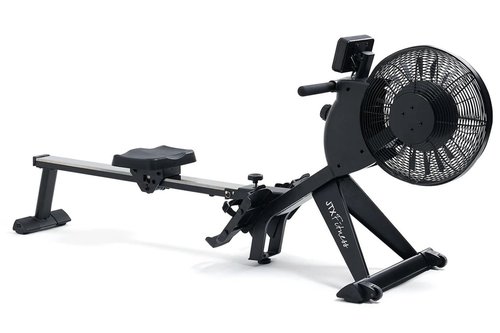 Keep updated with regular content...
We'll only get in touch when we've got something exciting to share, like exclusive discounts and competitions!
Buying Guide
So, why should you buy a cheap indoor rower? How do you decide which one is right for you? Our top 7 list covered many different factors to consider, and it can be confusing to make a decision. Here's a breakdown of the main categories you should consider when looking to buy an indoor rowing machine.
Type
There are three main types of indoor rowing machines: magnetic, water and air.
Magnetic rowing machines are known for being quiet and compact. They use magnets to generate resistance in the flywheel house, and no matter how fast you pull, the resistance doesn't waver. For those who live in small apartments or with roommates, a magnetic rower may be the best choice. Additionally, for those who like tracking their workouts and counting calories, the metrics on a magnetic rower are by far the most accurate. We've put together a full list of our favourite magnetic rowers here.
Water rowing machines are classy and calming. To mimic the feel of rowing on water, they ingeniously use the movement of water in a tank to create resistance and provide you with a realistic rowing experience. Besides changing the water every once in a while, water rowers require minimal maintenance. Often, people find the sloshing of the water relaxing and thus pass their rowing sessions in a zen-like state of mind. Water rowing machines are the most expensive compared to magnetic and air rowing machines. You can see our post dedicated to water rowers here.
Air rowing machines are the most popular on the market. Although significantly louder than both magnetic and water rowing machines, air rowing machines provide a comfortable middle ground in terms of pricing and feel. They quite accurately mimic the feel of rowing on water, including the difficulty. Usually, you'll see air rowing machines in gyms and training centres, where athletes spend most of their time conditioning.
If you want to know more, we've written a comprehensive comparison of water vs magnetic vs air rowers.
Quality and Sturdiness
Generally, the more you pay for a rowing machine, the better quality you're going to get. And the better quality, the more weight the machine can hold. However, if you choose carefully and filter for reputable brands and high ratings, then you will easily find the quality that you're looking for, for a lower price. All of the rowing machines in our top 7 list have been checked for reliable quality and sturdiness.
Space
A rowing machine will generally take up the space of a yoga mat and a half. They won't tower over your living room like a treadmill, but they do cover their fair share of surface area. To save space, foldable rowing machines are convenient so that you can store them in a closet when not in use.
Budget
Your budget can significantly influence the quality of the rower. The starting prices for budget rowing machines begin at around £150 ($200) and end at about £500 ($700). Magnetic rowing machines are the cheapest as they are the least realistic in rowing experience, usually selling for around £200 ($275). Air rowing machines are a bit more expensive, hovering around £350 ($480). Water rowing machines are the most expensive, easily reaching up to £500 ($700).
FAQs
Are cheap rowing machines any good?
Yes, you can find good cheap rowing machines. But you need to choose the right brand and rower if you want it to be both affordable and durable. Cheaper rowing machine models have a tendency to be built from flimsy materials, so brand reputation and customer reviews are essential for deciding which rower is best.
Conclusion
So, when looking for a cheap indoor rowing machine, the main factors you should take into account are price, quality, and type. We have sifted through numerous sellers and handpicked the best cheap rowers to share with you.
Between the magnetic rowers, the best one is the Dripex Rowing Machine. The best water rower from our list is the Sunny Water Rowing Machine. The best air rower is the JTX Freedom Air Rowing Machine. When looking for good quality and raving reviews, you can't go wrong with any of these.
If you're still not sure which rower to go for then read our ultimate guide to buying a rowing machine to help you find the right one for you.
For the rest of your man cave needs and desires, why not explore our site or head over to the Rowing Machines section to see more posts and recommended products!
Affiliate disclaimer: on some or all of the products above, we receive a small commission if you make a purchase via our site. This does not impact the price you pay, but it allows us to keep helping people by writing these reviews, so thank you!