As the popularity of home workouts grows, it's never been more important to have quality equipment that doesn't take over your living space. Folding exercise bikes afford the opportunity for a great workout without leaving the house. They can be stored out of sight when not in use but allow any space to be transformed into a home workout area in minutes.
While they are one of the more affordable pieces of large gym equipment, a foldable exercise bike does require a significant investment. With that in mind it's important to make a sound purchase that is well researched and well-reviewed. To save you trawling through the countless options on the market we've reviewed the best 7 folding exercise bikes below, followed by a handy buying guide to help you decide which one is right for you. But first, let's look at why you should consider buying one of these bikes.
In this review, we discuss;
Why Buy a Folding Exercise Bike?
Efficient Use of Space
With a foldable exercise bike you can maximise your space with ease, transforming any room into a home workout studio in minutes. With a much smaller footprint compared to regular exercise bikes, foldable bikes are the perfect solution for space-conscious fitness enthusiasts. Whether you plan to store your foldable exercise bike in a cupboard or in the corner of a room you'll be able to set it up with ease when you are ready to workout.
Lightweight
As well as being easy to store, folding exercise bikes are easy to transport. If you are heading to work out with a friend or you need a better view of the television to catch up on your favourite series as you work out, foldable exercise bikes are a lightweight option that are easy to carry between rooms in your home or transport further afield.
Affordable
As well as maximising your space, a foldaway exercise bike will maximise what you get for your budget. This affordable piece of home workout equipment won't break the bank and you also won't need to sacrifice on quality. These small yet powerful contraptions can withstand even the most intense workouts and will leave you with more money left-over to spend on post-workout pints! If you're looking for an affordable bike, you should also check out our post on the Best Cheap Exercise Bikes.
Top 7 Folding Exercise Bikes
Now you know the reasons why you should buy a foldable exercise bike, it's time to discuss your options. Our team has researched the very best bikes on the market to bring you the top 7, catering for all budgets, users and experience levels. The list below is roughly in order from least expensive to most expensive.
Our first foldable bike is brought to you by Ultrasport, the market leaders in folding bike products. With a sturdy construction and a sophisticated LCD display this entry-level bike is truly an all-rounder, giving users the option to monitor calories, speed and pulse among other fitness metrics. As well as providing stats to track your workout, the Ultrasport F-Bike offers a number of colour options to add style as well as substance. For an extra £40 ($50) the heavy option has a maximum weight of 130kg, catering for a wider range of fitness enthusiasts.
Max weight supported: 100kg
Dimensions: 21 x 117.5 x 40 cm
Price: £
Retailer: Amazon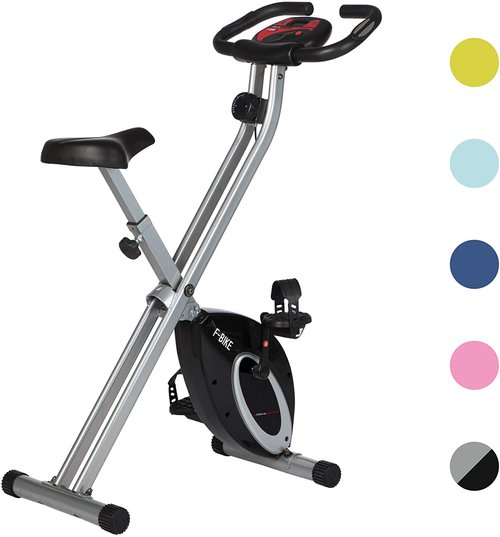 ---
For the more experienced user, the F-Bike 200B can level-up your workouts while maintaining the storage convenience for home use. With 8 resistance levels, the 200B model offers significant scope for progression to those with long-term fitness goals. The 200B also features the LCD display that tracks 5 different metrics allowing you to track your fitness improvement over time. As well as different colour options, you can also add a backrest for supreme comfort during longer workouts.
Max weight supported: 100kg
Dimensions: 55 x 145 x 90 cm
Price: £
Retailer: Amazon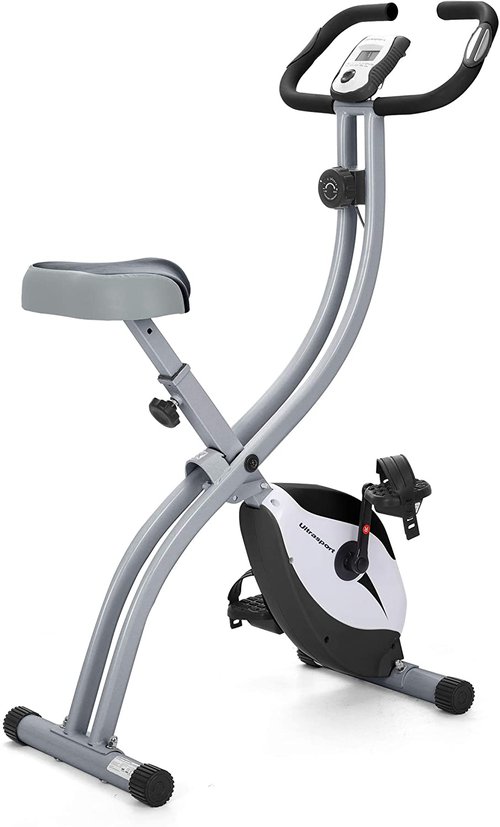 ---
While technically an upright bike, the XS Sports B210 is the closest thing you'll find to a spin bike featuring lowered handlebars and a narrower saddle. With a solid steel construction this foldable exercise bike can withstand vigorous pedaling and intense workouts. Its sleek all black finish makes it popular among style-conscious athletes as well as those looking to track their progress by using the LED display to monitor five different fitness metrics.
Max weight supported: 100kg
Dimensions: 41 x 113 x 74 cm
Price: £
Retailer: Amazon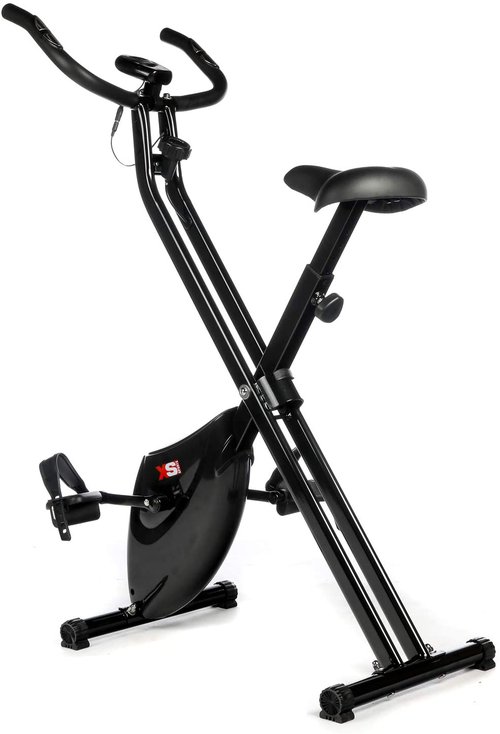 ---
If you are looking for more than just a bike for your home gym set-up, the Ultrasport F-Bike 400BS incorporates fitness cables to allow you to vary your workouts. The 400BS remains easy to fold away and store, maximising the exercises at your disposal and minimising wasted space. On top of the fitness metrics you expect from Ultrasport, you'll also get a free workout app to revolutionise your workouts. While the 400BS doesn't boast the most unassuming profile, it allows users to incorporate upper body exercises from one comprehensive piece of equipment.
Max weight supported: 100kg
Dimensions: 43 x 113 x 81 cm
Price: ££
Retailer: Amazon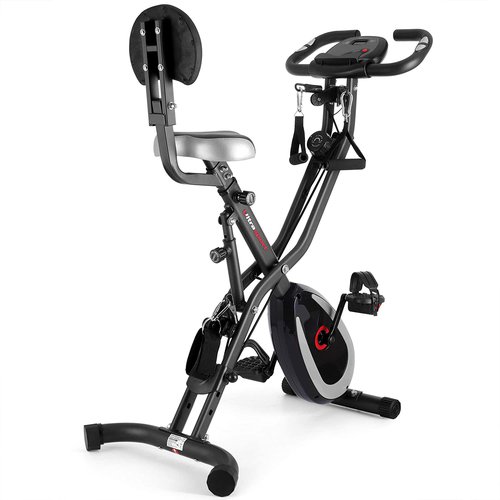 ---
For those who want to opt for the superior comfort of a recumbent folding exercise bike, the Exerpeutic 400XL offers unrivalled comfort and quality. This bike can support a max user weight of 136kg, making it suitable for a wider range of users who are looking to level up their home workouts. The large seat cushion allows you to cycle in comfort, whether you are in front of the TV or at your work desk. This folding bike is also high-performance with an LCD screen with workout tracking and 8 levels of resistance to choose from to allow you to move seamlessly from warm-up to workout.
Max weight supported: 136kg
Dimensions: 117 x 84 x 48 cm
Price: £££
Retailer: Amazon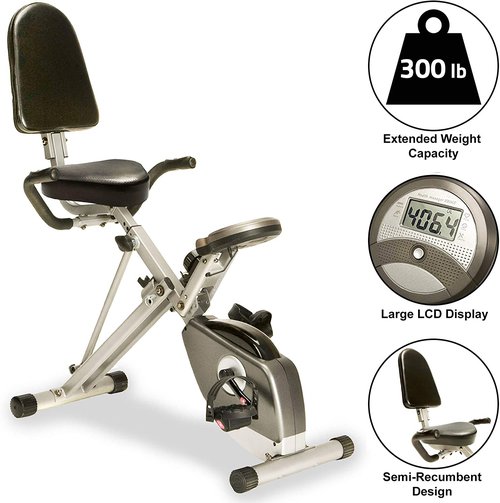 ---
This folding bike from Exerpeutic is great for those looking for excellent build quality and ergonomic design. On top of a large LCD display and 8 levels of resistance this foldable bike uses a 3-piece crank system to deliver a quiet and smooth pedaling motion, important for those who want to hear their workout playlist or television speaker. The hand pulse sensors make it easy to target your desired heart rate zone to execute a precise and effective workout. For keen cyclists who have limited space or need a winter training option this upright exercise bike is perfect for home use.
Max weight supported: 136kg
Dimensions: 116.8 x 78.7 x 48.3 cm
Price: £££
Retailer: Amazon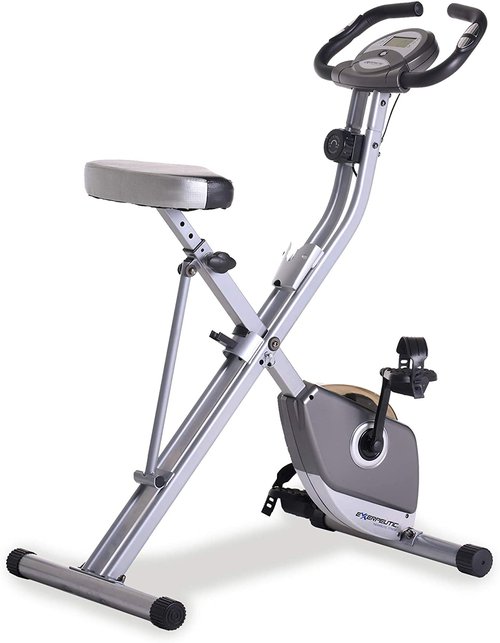 ---
Completing our list is the WorkFit 1000 which combines a desk and exercise bike for fitness enthusiasts who have limited time. With a fully adjustable desk, the bike allows you to adopt a comfortable position as you exercise and work. This product also places an emphasis on comfort with an airlift seat and large back rest. It's also able to fold up into a surprisingly compact shape making it easy to store as well as transport with built-in wheels. The 3-piece crank system keeps pedaling quiet and smooth, making sure you aren't disturbed while you work.
Max weight supported: 136kg
Dimensions: 137 x 65 x 54 cm
Price: £££
Retailer: Amazon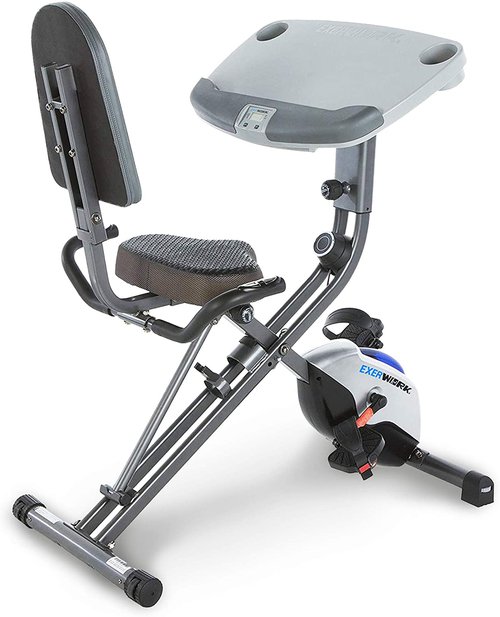 Keep updated with regular content...
We'll only get in touch when we've got something exciting to share, like exclusive discounts and competitions!
Buying Guide
There's a lot to think about when buying a foldaway exercise bike. In this buying guide we cover the most important things to consider and questions to ask yourself.
Quality and Sturdiness
As with any fitness product the quality and sturdiness of the equipment is crucial both from a performance and safety perspective. When weighing up a potential purchase don't sacrifice on quality. Folding exercise bikes made from high quality materials will have a longer life span and will be more comfortable to use.
Type of Exercise Bike
Foldaway exercise bikes come in a number of different forms. The most common of these are upright exercise bikes which replicate the typical riding position on a push bike. These tend to be the most popular as they allow for comfort as well as intense workouts. We review our favourites in our Best Upright Exercise Bikes post.
For those looking for more emphasis on comfort, recumbent bikes provide a reclined riding position which is preferable for long rides or those who want to combine their workouts with their work day. If you're interested in a recumbent bike then check out our blog on the Best Recumbent Exercise Bikes. Finally, we have folding exercise bikes that replicate an indoor spin style bike. These bikes replicate more of a racing position and are the preferred choice of ambitious cyclists. If this is what you are after then you should also read our Best Spinning Bikes post.
We've put together a handy blog post that does a detailed comparison of upright, spin, and recumbent bikes to help you work out which one is right for you.
Maximum Weight Restriction
One important factor to note is the maximum weight restriction of the product. Be careful to ensure that you fall within the range of weights of the product to guarantee safety and the longevity of the bike.
Resistance
Resistance levels dictate how hard it is to pedal. Typically, higher resistance levels are more difficult and will burn more calories. If you are looking to progress your fitness then look for a product that has a range of resistance levels so you can start easy and gradually progress as your fitness improves.
Extra Features
A number of the folding exercise bikes we have reviewed come with extra features and it's important to decide which you will need to find the product that suits you best. For those looking to track fitness progress, an LCD screen that monitors heart rate and calories is helpful, while for those who want to work as they ride, a built-in desk is necessary. Think carefully about your goals and lifestyle to ensure you get the right features for your needs.
Budget
Finally, make sure you quantify your budget. Folding exercise bikes come at a range of prices and it's important to decide your maximum price before you begin searching. Remember that higher prices don't always mean better bikes. A smart purchase is one that matches your fitness goals and a product that will help you achieve them.
Conclusion
We have searched far and wide to give you the 7 best folding exercise bikes on the market with options for everyone, taking into account different lifestyles, experience levels, and budgets. Before you make your purchase, make sure you have a clear idea of what you are looking for. For serious cyclists the XS sports B210 is a great option as it replicates the riding position of a spin bike. If you are looking to cycle more casually as part of your fitness routine then consider the Exerpeutic 400XL Folding Recumbent Bike which delivers exceptional comfort giving beginners a great starting point to get into cycling. Finally, be sure to measure the space in which you intend to store your bike so when it arrives it's accessible for when you are ready to get on your bike and ride!
For the rest of your man cave needs and desires, why not explore our site or head over to the Exercise Bikes section to see more posts and recommended products!
Affiliate disclaimer: on some or all of the products above, we receive a small commission if you make a purchase via our site. This does not impact the price you pay, but it allows us to keep helping people by writing these reviews, so thank you!